<!IMG SRC="xxx.gif" ALIGN=left VSPACE=0 HSPACE=6 alt="[alt title]">

Police Accountability and the Upcoming Council Election

Portlanders will decide between Charlie Hales and Jefferson Smith for Mayor on November 6. Portland's Mayor will likely become Commissioner of the Portland Police Bureau (PPB). On issues of police accountability, neither candidate has expressly talked about ways to reform the PPB amid concerns about its violence and racist practices.

In a July 18 Portland Tribune article, both are quoted as supporting community policing and the idea that "the city must change how it trains and disciplines police officers."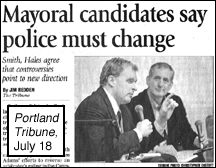 Smith supported Mayor Adams' refusal to reinstate Officer Frashour in defiance of the arbitrator's ruling that Frashour did no wrong by shooting Aaron Campbell in the back. Smith also opposed the overturning of the arbitration in the Chasse case (see article). In contrast, Smith also accepted the endorsement of the Portland Police Association. Smith says de-escalation training in New York has lowered the NYPD's use of force, suggesting the Bureau use its new training facility to follow suit.
Hales didn't have specific comments about the arbitrations, but criticized the idea of creating policies that are too specific, which he says allows unwritten rules to be broken. He said he is "studying" a discipline matrix along the lines of the one proposed by the Auditor's May report on police learning (see article). Hales also suggests more cameras be installed in police cruisers.
Hales raised concerns about the Joint Terrorism Task Force while City Commis-sioner in 2000, and voted against it in 2001 shortly after 9/11 (PPRs #23 & 25). At a candidates' forum in March, Smith said he favored the withdrawal and would not support the current engagement if civil liberties infringements occur.
Last fall, Smith stated that he wouldn't evict Occupy Portland from Chapman and Lownsdale parks unless violence made intervention necessary, while Hales urged Council to impose an eviction deadline just three weeks into the occupation.
Also running for City office are Steve Novick, unopposed for Randy Leonard's seat, while Amanda Fritz is being challenged by Mary Nolan for her place on Council. This means two to three new Commissioners on the five member Council.
In researching this article, we found no specific strategies for decreasing police brutality and racial profiling, or integrating the police as members of this community while the PPB is being investigated by the U.S. Department of Justice.