Site Navigation
Home
About us
People's Police Report
Shootings & deaths
Cool links
Other Information
Contact info
Donate
<!IMG SRC="xxx.gif" ALIGN=left VSPACE=0 HSPACE=6 alt="[alt title]">

PORTLAND, THE CITY THAT WORKS
(To Make Lives Miserable)

Portland continues to promulgate and enforce various ordinances which mainly target minorities and the houseless.

Commissioner Amanda Fritz sporadically calls together the Sidewalk Management Plan (SMP) advisory group,which Portland Copwatch has continued to observe. Data regarding contacts by the police with those deemed to be in violation of Sit/Lie 4.0 reveal that in March, police issued one written warning, while in April they issued six warnings (all to homeless people) and one citation for drinking in public. At the July SMP meeting, Central Precinct Captain Sara Westbrook stated that in May, police issued 26 warnings and two citations, while in June there were 63 warnings and 1 citation--a 1300% increase in enforcement. Westbrook had no information regarding demographics of those contacted.

In September, 2010, City Council endorsed an "Alcohol Impact Zone" in the downtown area which would have banned the sale of beer with at least 5.75% alcohol or in 16 ounce cans, plus fortified wines and wine in boxes or jugs (PPR #52). On June 28, Oregon Liquor Control Commission Director Steve Pharo told Council his agency technically had no right to create these zones. Fritz, the Commissioner primarily responsible for the Zone, was unhappy. "We've spent thousands of dollars and hundreds of hours on this... It's more than disappointing" (Portland Mercury, July 5). Maybe those dollars would have been better spent on housing or social services rather than deciding who can drink what in certain areas.

On July 11, the Portland City Council gave Dignity Village, the now 11-year-old self- sustaining site for homeless people, a three month extension in order to meet city standards before a new three year contract will be granted. Dignity Village houses 60 people in 43 cabins. It is expected the City will provide more onsite access to social services to assist residents in moving more quickly into permanent homes and jobs (Oregonian, July 11).

Meanwhile, Right 2 Dream Too (R2D2) is not receiving the same considerations from the City, which calls the site for houseless people on 4th and Burnside an "illegal recreational campground" (PPR #56). The City has been fining the owners of the site monthly, and the fines recently totaled $6000. R2D2 has been raising money, while one of the co-owners has paid $4000 of the fine. Mark Kramer, an attorney with the National Lawyers Guild, and R2D2 Vice Chair Ibraham Mubarak demanded the same legal status as Dignity Village. Commissioner Nick Fish, in charge of housing, was hesitant "to normalize a system in which people would choose to live on the streets or in tents instead of more permanent housing" (Mercury, July 11). That statement speaks for itself in light of the lack of housing versus the number of houseless people on our streets.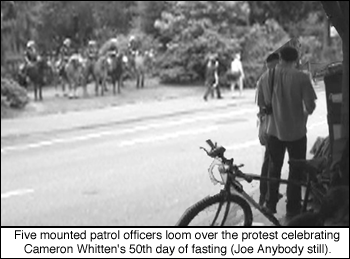 Activist Cameron Whitten began a hunger strike on June 2 focused on insufficient housing and the R2D2 fines. On July 23, about 250 supporters gathered at City Hall to support Day 50 of the strike. Three police officers stood nearby observing, while a five member Mounted Patrol hovered a block away. On Day 55, Whitten announced an agreement with Mayor Adams' office that Cameron would declare victory and resume eating. The City agreed to organize annual regional housing summits and examine the R2D2 issue (Mercury blog, July 25).
On August 22, Council approved a settlement in the federal lawsuit against the anti-camping ordinance (PPR #47). The settlement gives $3200 to six named plaintiffs (and $37,000 to rent assistance) and adds minor improvements to the enforcement of the ordinance, such as guidelines for confiscated property. Unfortunately, the ordinance was not found unconstitutional. Since December, people have been camping on the City Hall sidewalk to protest the camping and other policies. On July 12, the City notified campers to clear off so the sidewalks could be washed. In response, some supporters and campers scrubbed the sidewalks, but the City power-washed them anyway. Many who had been camping moved across the street. While a smaller protest continues, the City has since been confiscating items and over-enforcing rules citing complaints about "obstruction of pedestrian traffic and the accumulation of garbage and personal property."
In other news, since May 1, City parks are no longer patrolled by security guards and police officers paid for by the Portland Business Alliance. Fish, also Commissioner of Parks and Recreation, hired urban park rangers for the job (PPR #56). The rangers are armed only with pepper spray. They can neither arrest nor issue most citations, but can exclude people for breaking park rules. Exclusions usually last 30 days. People are allowed to sleep in the parks but if they cover themselves with a blanket, they are considered campers and must leave or face exclusion (Portland Tribune, May 31).

September, 2012
Also in PPR #57
• Portland Police Shoot Several,
Chasse Discipline Overturned
• Other Shootings in Oregon
• Excessive Force on May Day 2012
• Serious Complaint Uninvestigated
• Shooting Report Confirms Concerns
• IPR Report Shares Little
• New Cameras Monitor Citizens
• Homeless Still Targeted
• Promotions for Questionable Cops
• Candidates on Police Accountability
• Stops Data Show Police Bias
• Updates
• Taser Lawsuits
• Gun Exclusions Disproportionate
• Drug Exclusions Also Disproportionate
• Quick Flashes
• FBI Raids Activists Homes
• Man in Mental Health Crisis Beaten, Tased
• Whistle Blower Demoted, Sues
• Cops Still For Sale In Portland
• DOJ Says Copwatching Protected Speech
• Skateboards, PPB Video, Sheriff Guilty
• Rapping Back #57