<!IMG SRC="xxx.gif" ALIGN=left VSPACE=0 HSPACE=6 alt="[alt title]">

Rapping Back #74:
Portland Copwatch member Dan Handelman analyzes the Police "Union" newsletter, the "Rap Sheet" for the People's Police Report

Fresh Facebook Feed for Fuzz Finds Fake Friendliness in Full Force

Same Old, Same Old as Rap Sheet Comes Back to Life

In our last issue, we wondered whether the Portland Police Association (PPA) had thrown in the towel on its newsletter, the Rap Sheet. The site hadn't been updated for months and the feed drawing in articles from its Facebook account had disappeared. By mid-March, the feed was working again, albeit with a number of glitches (for instance, one article was listed for a while as being posted on "March 0"). Between the Rap Sheet site and the PPA's facebook page, we looked at 60 posts that went up since mid-December. Not surprisingly, the most frequent kind of article continues to be "bluewashing," or feel-good stories about the PPB which ignore the ongoing misconduct, harassment, and discrimination that happen every day. Seventeen of the 60 posts (28%) fell into this category. The second most frequent kind of story focused on crime or crime statistics, which in part is inseparable from the third (and also incessant) category of staffing levels at the Bureau. The PPA's campaign to push for more officers kicked into high gear as the City's budget planning began in March. Five pieces focused on houselessness (including yet another push on February 6 to put homeless people into the never-opened Wapato Jail as a "service center"), with miscellaneous other topics including two pieces on accountability. We analyze one of those, "Damned if We Do, Damned if We Don't" on page 8.

While there were fewer articles seeming to urge patriotic Americans to salute the flag, police, and the military, one such piece titled "We Stand" posted on January 31 focused on an ad that the National Football League rejected for the Super Bowl. It was sponsored by Amvets and the national coalition of police "unions" known as "UCOPS," of which the PPA was a co-founder. The ad showed patriotic images with slogans saying "we stand for..." community, the flag, veterans, family, police officers and free speech. Ironically, the idea was clearly to suppress NFL players who have been kneeling for the national anthem in order to protest police violence against African Americans. PPA supported the "heroes" at Amvets who say the NFL was suppressing their free speech by refusing the ad.

Dance Dance Counter-Revolution

On March 2, the PPA posted a news story from local NBC affiliate KGW-8 along with the PPB's video of officers, including Chief Outlaw, dancing the Electric Slide with students at Sabin K-8 school. Two African American officers who were part of the dance also appeared on KGW on March 12 (posted March 18). The message was that officers were just trying to have fun with the kids and show they are human beings. It is disconcerting watching the officers wiggling their backsides around with their guns and Tasers sticking off their hips within inches of these young people. Such outreach efforts, as we have said in the past, are meaningless unless there is acknowledgment that one day the same friendly officers may wrongfully stop, injure or kill one or more of these kids and a promise there would be remorse and justice if that does happen.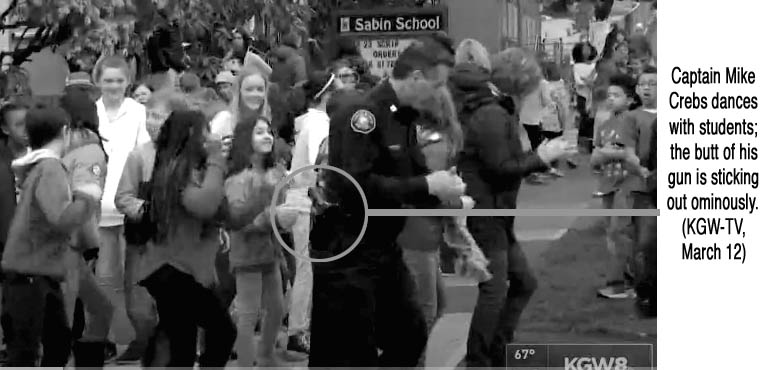 Further indoctrinating youth into thinking police have "cool equipment," cops on the Neighborhood Response Team are shown allowing kids to sit on All Terrain Vehicles in a March 1 post.
In another post featuring youth, a KATU-2 story from March 3 recounts how two officers followed tracks in the snow to return a 12 year old's bike. Our concern? The officer shown sidling up to the youth is Roger Walsh, who shot and wounded Don Perkins in February 2017 (PPR #71). Similarly, a February 22 post (from the PPB) shows Officer Ryan Reagan hugging a smiling child with the caption "Good morning, officer" (see photos on p. 6). Reagan shot and wounded Chase Peeples last fall, mistaking the African American man's wallet for a weapon (PPR #73 and p. 1).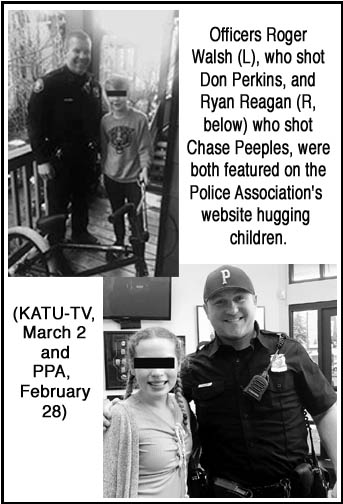 A February 21 post featuring Officer Lino Pavon making a snow angel near his patrol car led to an argument in the comments about why the PPB should get 100 new officers if they have time to engage in such silly behavior.
100 Cops Hired, PPA Still Wants Over 93 More
The PPA's public relations campaign for "common sense" seeking more officers in the Bureau focuses on their statement that there are 100,000 more people in Portland than in 2001 (a number that was 125,000 in a December 14 post) but 100 fewer officers. On March 18, they posted these statistics along with contact information for City Council, taking their usually closed- door lobbying tactics extremely public. They are supporting the Mayor's proposal (along with Chief Outlaw) to ask for authorizing 93 new officer positions at the PPB.
However, a graph in an Oregonlive article linked to by the PPA (January 8) shows that there were 976 officers authorized in 1994 and 946 authorized in January 2018, with all but 11 of those positions filled (935--to be fair, there were 1035 officers authorized in 2005 but only 954 positions were filled). Moreover, at the March Training Advisory Council meeting, Captain Bob Day stated that 115 current officers were either at the academy or on probation, meaning that over 100 officers have just been added to the Bureau. Since it takes about two years to get officers through training and off probation, maybe it's best to see how these 115 new cops change the equation before spending money on law enforcement that could be dedicated to human needs.
As with previous efforts to boost their membership numbers, the PPA pointed to the number of houseless people on the street as a reason Portland needs more cops. Their December 14 post responding to Mayor Wheeler's Oregonian editorial ("addressing livability without 'harassing the homeless,'" December 10) again pointed to the number of homeless folks going up from 3801 to 4177 (ignoring that the number was higher in a previous year), and included photos of people in homeless camps-- with their faces blurred out. Also continuing the trend of sidelining the issue, the PPA reposted a KGW news poll that showed 34% of people considered moving out of Portland because of the presence of houseless people (January 26).
---
In other statistical gymnastics, the PPA pointed out that auto theft went up 42% from 2016-2017 (January 22), but an Oregonian piece they posted indicates the roughly 7000 vehicles stolen last year wasn't even close to the 9231 stolen in 1995, when there were 1000 officers authorized and tens of thousands of fewer Portlanders.
---
PPA Defends Gang Enforcement Profiling
After the Auditor released her report showing the Gang Enforcement Team pulls over an outrageously disproportionate percentage of African Americans (10 times their representation in the population-- p. 1), PPA President Daryl Turner posted a three-page screed defending the Team's actions. The pull-quote summarizing his point: "The GET['s] focus is not traffic stops, their focus is public safety." Like the Mayor, Turner points to the number of "gang" crimes and shootings to justify the over-policing, ignoring the concerns about the use of pretext stops and the critique that no data show whether the Team is even pulling over actual gang members. "Don't be fooled," Turner wrote, "the Gang Enforcement Team does not racially profile and the auditor could not reach that conclusion."
---
PPA President Daryl Turner complained that in Wheeler's look back at his first year in office, he did not thank the "short staffed rank and file officers" (January 11).
---
STOP THE PRESSES! Portland Copwatch (Sort of) Agrees with Police Association on Arming Teachers
Much to our surprise, after the school shooting in Parkland, Florida, the PPA posted a piece on February 28 titled "Arming Teachers Not the Solution." It says the idea adds risks and is counter- productive. Their concern is that teachers will be running around the school with guns when the police enter the building, making it impossible to tell who the original shooter was. That may well be, but Portland Copwatch would add it also means there will be more guns in the school that potential shooters know are there, and increases the possibility of teachers injuring students. (A teacher in California accidentally shot a student when a bullet ricocheted off the ceiling as he demonstrated gun safety on March 13.) Ah, well. The PPA also suggests banning "bump stocks" that convert semi-automatic weapons into fully automatic ones, and increasing sentencing guidelines for those who engage in mass shootings, alter weapons illegally, fire guns in certain buildings (government, school, hospital), or during domestic violence. Oh, and if someone shoots at first responders such as police. We posit that maybe if the government would stop sending the message that the way to resolve conflict is through violence, the atmosphere creating and encouraging school shootings would change dramatically.
Side note: Turner posted another piece one day later urging more money be spent to train officers on "active shooter" scenarios. He said such training "saved lives" in Reynolds High School and Umpqua Community College. The shooter at the High School killed himself and the police killed the one at the College, so even if some people's lives were spared by those people's being unable to shoot anyone else, it's a contradictory message that killing anyone is a means of saving lives.
---
Sheriff Mike Reese and his wife Cindy also authored an Oregonian op-ed piece saying arming teachers is not the answer (March 11).
---
The Portland Police Association does not set policy. However, some PPA leadership, officers, and guest authors express negative attitudes toward citizens and civilian oversight in their postings. We worry these ideas may spread through the rank-and-file.