<!IMG SRC="xxx.gif" ALIGN=left VSPACE=0 HSPACE=6 alt="[alt title]">

The Portland Police Bureau and "Union" Vs. Houseless People

Recent statistics reveal that the Portland Police Bureau (PPB) is arresting and using force against houseless persons in numbers vastly more than they are represented in Portland's population. Further, the Portland Police Association (PPA) President has referred to Portland as a "cesspool" and he isn't backing down.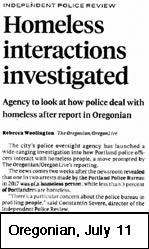 A July 1 Oregonian article indicated houseless people made up 52% of the arrests in 2017 although they are about 3% of the population. This disparity continues: in the first three months of 2018 the percentage of arrests of houseless people increased. The ACLU demanded an investigation and Chief Outlaw called for an inquiry by the Independent Police Review (IPR). Portland Copwatch (PCW) has contacted the IPR Director and requested that other factors also be considered in the investigation. We noted that 44% of the Use of Force in Portland in 2017 was against houseless persons, and that since 2010 seven of 20 people, or 35% of the people shot at or killed by the police were homeless or in a homeless shelter.
A July 13 editorial by Street Roots director Kaia Sand indicated their vendors are also being profiled and harassed by police, even though profiling based on perceived homelessness is illegal under Oregon State Law.
In a recent report by the Compliance Officer/Community Liaison (COCL) as part of the Department of Justice Settlement, they indicated that houseless persons are 34% more likely to receive serious force than those who are housed. The COCL also said officers' first use of force on houseless people was higher than if the person was housed-- 21% vs. 15% of the time (also see article).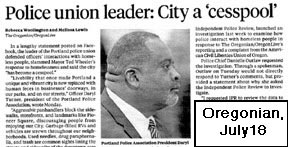 PPA President Daryl Turner called Portland a cesspool in a July 16 Facebook post (also see back page), referring to the presence of houseless people. He claimed the high number of arrests of those who are houseless can be attributed to community complaints made to the PPB. Much of this is belied by the fact that officers on ATVs have stormed up and down the Springwater Corridor and other places where houseless people live, demanding names and IDs. The police then check the names against warrant lists, and if a person has an outstanding warrant they are arrested. This broadly applied tactic certainly cannot be attributed to "community concerns."
On May 31 while PCW was copwatching downtown, an elderly man who was houseless said that on four occasions Clean and Safe, employed by the Portland Business Alliance (PBA), threw out his belongings. These items included IDs and a birth certificate, and he had difficulty getting money to replace them. We brought this behavior to the attention of City Ombudsman Margie Sollinger, since the City approved the original contract with the PBA to create a "Business Improvement District" and thus Clean and Safe. The City is bound by a lawsuit (Anderson v. Portland) to follow procedures before taking items from people living outside (PPR #57).
The Ombudsman responded that the issue did not appear to be addressed by the City's Agreement with Clean and Safe, and was not suitable for administrative investigation. Sollinger advised us to contact City Council to change the PBA contract and require Clean and Safe to follow the "Anderson guidelines."