<!IMG SRC="xxx.gif" ALIGN=left VSPACE=0 HSPACE=6 alt="[alt title]">

Copwatch Research Leads State DOJ to Promise Improved Officer Shooting Data
Oregon Incidents Reach 25 in Seven Months-- Normal Number for a Year

As reported in PPR #74, in January Portland Copwatch (PCW) sent a list of 192 incidents involving Oregon Law Enforcement from 2010-2017 to the Attorney General to prompt the legally required publication of officer involved deaths, as mandated in 2007. In early May, a reporter from KBOO let PCW know the Oregon Department of Justice (DOJ) had quietly been posting information about those deaths to the state's website for over 16 months.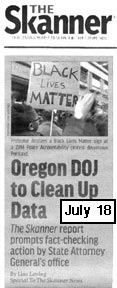 PCW examined the published data and found a number of problems, including nearly 50 incidents which were not listed, entries with wrong victim names or dates, and alarming inaccuracies. The entry for Aaron Campbell stated that he reached for a gun in his waistband before being shot by Portland Police in January 2010-- but Campbell was unarmed (PPR #50). It also says Keaton Otis reached into his car for a weapon, even though he was never out of the car until police dragged his corpse to the sidewalk after riddling him with bullets (PPR #51). The Skanner published a two-part series on July 11 and 18. The first one highlighted the database's shortcomings and mapped out nearly 200 incidents (including a few that came to PCW's attention after January), 113 in which the suspects died. The second article quotes a DOJ spokesperson who says they were "in the process of cleaning up our current database, and changing some of our internal protocols."
All this is important for tracking law enforcement deadly force, especially since by the end of July, the year 2018 has already reached the annual average of 25 people being shot at and/or killed in Oregon. The highest number PCW has chronicled is 30 in 2013. Should the trend continue, there could be more than 35 by December 31. The 25 so far include eight we reported on last issue, two involving the Multnomah County Sheriffs Office (MCSO) on May 14 and Portland State University Police on June 29 (article), and these 15 others:
--On July 24, Seaside Corporal David Davidson shot and killed Cashus Dean Case, 44, who had earlier stepped in to protect a neighbor under attack by a dog. Case, a veteran, allegedly would not put down his antique guns at the officer's command, and was summarily executed on the site (Daily Astorian, July 31 and KOIN-TV, July 25). Davidson also shot and killed Phillip Ferry in 2016 (PPR #68).
--On July 12, Lane County Deputy Jason Franklin shot and killed Joey Loop, Jr., 40, a security guard at a marijuana business near Cottage Grove following reports of shots fired, when Loop allegedly came out of the building with a gun. Deputy Brian DeVault fired a less lethal round at the same time Franklin fired his AR-15 (KEZI-TV, July 12 and KVAL-TV, July 24).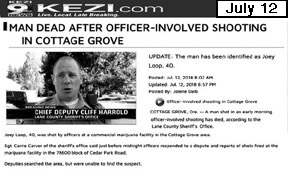 --On July 7, Yamhill County Sheriff's Sgt. Sam Elliott and Deputy Stephanie Sulak shot and killed Kelly Kenneth Sutton, 27, in Amity. Presumably Sutton was the "unknown man" someone called police about being in their bedroom (KPTV, July 9).
--On June 30, Eugene Sgt. Michael Ware and Officer Joshua West shot and wounded David Justo Duran, 32, after Duran allegedly stabbed and killed Donald Rivers (Eugene Register-Guard, July 13).
--On June 8, Aumsville Officer Officer Ryan Bambrick shot and wounded Joshua Biles, 27, during a traffic stop, when Biles allegedly rammed Bambrick's patrol car (Salem Statesman Journal and Aumsville Police Facebook page, June 18).
--On June 26, Bend Officer Timothy Williams shot at Timothy Bontrager, 36, during a traffic stop based on failure to use a turn signal and suspected DUII. The District Attorney says that Bontrager committed suicide using his own firearm (KTVZ-TV, June 27).
--On June 23, Oregon State Trooper Kurtis Matthews, Coos Bay Police Officer Dan Henthorn and Confederated Tribal Police Officer Doug Laird shot and killed Eric Sweet, 47, when he allegedly pointed a rifle at police trying to take him into custody on a charge of eluding officers (KATU-TV, June 23 and Oregonlive, June 25).
--On June 21, Deschutes County Deputy Randy Zilk shot and killed Jesse Powell, 44, when "responding to a disturbance at a campsite southwest of Bend" (Oregonian, June 22).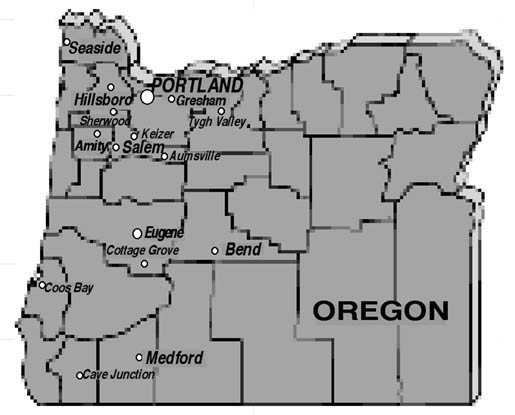 --On May 18, Gresham officers Joshua Price and Brendon Hayes shot and killed Dmitri Bullard, 24, when they say he threatened them with a weapon during an effort to investigate a suspicious vehicle (Oregonlive and KATU-TV, May 18).
--On May 2, Hillsboro Officers Jesus Rios and Yuri Astorga shot and wounded Brandon Syharath, 21, after he allegedly tried to stab one of the officers; they were investigating a supposed break-in at a home owned by Syharath's parent (Oregonlive, May 4 and KPTV, May 7).
--April 30: In an unusual twist, there was a second shooting involving Vasile Manta, 36, the same suspect who was shot by the Multnomah County Sheriffs on May 14. In the earlier incident, a Gresham Officer (so far unnamed) fired his gun at Manta after he allegedly rammed a patrol car with a stolen minivan (KATU-TV, May 1). This incident led the MCSO to look for Manta at the second stop.
--On April 25, Hillsboro Officers Justin Hubbenette and David Hawley, and Washington County Deputy Earl Brown and Corporal Cade Edwards shot and wounded Daniel McNamara, 43, after they say he shot at their SWAT team during a mental health crisis. They had been negotiating with him for roughly three hours. The Oregonian reported (on May 1) that Officer Hubbenette was involved in killing Daniel Reynolds on March 10, while Brown and Edwards assisted in the killing of Remi Sabbe on January 12 (both in PPR #74). It is rare that officers are involved in multiple deadly force incidents, much less so close together.

--Three incidents we overlooked in PPR #74:
----On January 18, a Wasco County Sheriff's Deputy shot at (and missed) Rudy Foki Paea Fifita, 30, after he allegedly would not stop when they tried to pull him over for speeding near Tygh Valley. Fifita's wife and one year old were not harmed (Gorge News Center, January 22).
----On January 15, Lane County Deputy Richard Smith shot and killed Robert Martinez, Jr. in Eugene at a traffic stop when Martinez allegedly reached for a gun and Smith's Taser "had no effect" because one of its probes missed Martinez (KVAL-TV, January 24).
----On January 12 Josephine County Sheriff's Sergeant Jim Geiger shot and killed Jeffrey Alan Burleson, 37, in Cave Junction, when Burleson allegedly "displayed a firearm" (KDRV-TV, January 12, Wild Coast Compass, January 13 and Oregon DOJ).
Meanwhile, the trial for an FBI agent accused of lying about shooting at LaVoy Finicum, a leader in the 2016 Malheur Wildlife Refuge standoff, ended in an acquittal in early August. The State Trooper who admitted shooting Finicum (and firing other rounds which earlier had missed him) has still not been named in mainstream news reports. This high-profile case, as well as the controversial death of Christopher Kalonji, were among those missing from the Oregon DOJ's database in early May.
Back here in Portland, the "Independent" Police Review launched its own interactive web "portal" showing Portland deadly force incidents for 2010-2018. That site contains useful information including the race and gender of suspects (but not the age), as well as officer names (which are not given on the DOJ site).
Find PCW's letters to the Oregon DOJ at portlandcopwatch.org/shootings.html

The DOJ's data are posted at justice.oregon.gov/deathincident/home /search

IPR's interactive site is at portlandoregon.gov/ipr/76848