Site Navigation
Home
About us
People's Police Report
Shootings & deaths
Cool links
Other Information
Contact info
Donate
Sketchy PPB Officer Chases Car Leading to Deadly Crash
Two Agencies Shoot in Portland; Elifritz Details and More Updates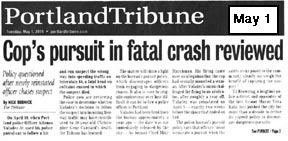 On April 19, Portland Officer Alfonso Valadez, Jr. (#51796) chased suspect Christopher Cannard, 59, down the off-ramp of I-84 leading to a head-on collision where Cannard died. Valadez had only recently been reinstated to the Bureau after originally being fired for allegedly sexually assaulting a woman at his home who was unable to consent (PPR #73). In the interim, there were two officer involved shootings in Portland, including one which killed an African American man witnesses say was trying to break up a fight. What's unusual is that killing was done by the recently-armed Portland State University (PSU) police, and the other incident-- in which the suspect lived-- involved the Multnomah County Sheriff's Office (MCSO). On the Friday before Memorial Day Weekend, the City dumped 600 pages of documents around the shooting of John Elifritz in a homeless shelter in April (PPR #74), mostly aimed at justifying the officers' quick decision to take the man's life. In other Portland shootings news, the community held its annual memorial service for Keaton Otis on May 12, eight years to the day after he was shot by Portland Police (PPR #51), and former PPB Chief Larry O'Dea faced off with the state board which proposed stripping him of his certification for the off-duty shooting of his friend and subsequent cover-up (PPR #69).
Probable Pervo-Cop Leads Deadly Pursuit
Cannard was suspected of a "minor hit-and-run" which "resulted in no need for medical treatment" (Portland Tribune, April 26). Given the minor nature of the crime and the serious safety risk posed by heading the wrong way onto the freeway, it would be surprising if the police find Valadez was in policy for the chase. Valadez was disciplined in 2014 for creating a video using clips from cases he'd worked on calling himself a "tough SOB" (PPR #66). The Oregonian fought to get information on Valadez's arbitration hearing on the sex assault case, in which the Portland Police Association (PPA) successfully argued the woman could not prove she was unable to consent. Of course, the fact that authorities in Clark County, WA did not test her blood to see if she had been given some kind of date-rape drug led to the male dominated institutions believing the officer's story that it was consensual (Oregonian, May 23).
The PPA is now trying to prevent the full case file from becoming public (Tribune, July 5). Ironically, the Clackamas County Sheriff's Office, which itself has made headlines for failing to follow up on sexual assault investigations, is looking into the fatal crash for possible criminal conduct. The Pursuit Directive was changed to limit when officers should chase suspects during the time Valadez had been laid off, leading Portland Copwatch to wonder whether he was given training on changed policies when he came back to work on April 5.
Multco Deputy Shoots Man at Fast Food Restaurant
The shooting by Multnomah County Deputy Matthew Ferguson (#39381) on May 14 marked the second use of deadly force by the MCSO in just over a month, after no deadly force cases (which Portland Copwatch has logged) since 1994. Another Deputy was involved in shooting Elifritz on April 7. Ferguson shot and wounded Vasile Manta, 36, when they say he crashed his vehicle into their unmarked van. Ferguson was undercover and thus presumably not in uniform, but was trying to take Manta in on a warrant (see article for more). This shooting happened at a crowded Burger King near SE Stark and 100th. Nonetheless, a grand jury cleared Ferguson of wrongdoing (Oregonian, June 17).
Portland State Cops Kill Man Outside Restaurant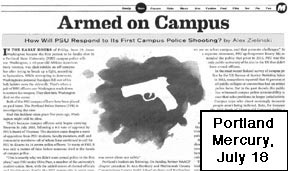 A little background on the Portland State University campus police: In 2015, students and faculty members strongly urged the institution's board not to arm their security officers, but the board over- rode those concerns, in part at the urging of now-PPB Deputy Chief Bob Day. The fact that 45- year-old Jason Washington was an African American man makes the PSU police's first shooting on June 29 all the more disturbing. Multiple witnesses confirm Washington wasn't fighting, but rather was trying to separate two people who had been brawling after racial slurs were spoken. Students and family members have been holding rallies and vigils, demanding justice for Washington and that the security guards give up their firearms. Like Philando Castile in Minnesota, Washington was a licensed gun owner. During the scuffle outside the Cheerful Tortoise restaurant, which is in the middle of the PSU campus, Washington dropped his gun. When he went to pick it up, Officers James Dewey and Shawn McKenzie killed him, even though he did not appear to pose an immediate threat beyond being a black man with a gun. PSU's president invited the US Attorney's office and the International Association of Campus Law Enforcement (who knew?) to investigate (Oregonian, July 7).




Elifritz Grand Jury, Homicide Investigation Documents Released

The city's release of their Homicide investigation into the Elifritz shooting came two weeks after a Grand Jury cleared all seven Portland Officers and the MCSO Deputy in that case. A few days after the first document dump, the District Attorney released another 600 pages, the Grand Jury transcript. The materials also included surveillance video from the homeless shelter. An Oregonian reporter synced up the videos, which show how officers shot and killed the man 37 seconds after entering the building. The June 13 Willamette Week reports Sergeant Roger Axthelm, who ordered the officers to push their way in, said he was afraid Elifritz, who had been cutting himself in the neck, would stab people like Jeremy Christian did on the MAX train in 2017 (PPR #72). The Portland Tribune reports that "one officer said the officers didn't have a plan, that things developed too quickly after they went into the shelter" (June 5). Elifritz's family has hired a lawyer who says the officers were not in danger, and they plan to sue.




O'Dea's Certification: On-Again, Off-Again

A previous vote by a committee of Oregon's Board of Public Safety, Standards and Training had suggested no change to Chief O'Dea's law enforcement certification, but the full Board asked them to reconsider. The Oregonian reported on May 18 that they might suspend the certification for 10 years for "dishonesty" and another three for "gross misconduct." Days later, the Oregonian's editorial board supported the idea of suspending the certification, citing their study on how often officers keep working despite misconduct (PPR #74). On July 26, the Board voted to "revoke" his certificiation for 10 years, which sounds like a suspension, not a revocation. However, it means O'Dea would have to go through basic training all over again in 2028. Since he is currently 55 years old, it may be he will choose to stay retired.




More Updates on Portland Area Shootings

--On June 7, the Skanner reported the family of Quanice Hayes, the 17 year old killed by police in February 2017 (PPR #71), had filed a lawsuit through attorney Jesse Merithew. The suit raises the issue of discriminatory policing against African Americans.

--On May 5, the Pacific Northwest Family Circle held a vigil on the Skidmore overpass to remember 15 years since the police shooting of 21-year-old Kendra James (PPR #30).

--On May 3, City Council voted to give roughly $55,000 to two homeowners whose houses (and a boat on a trailer) were shot up by the Portland Police when they fired at-- and missed-- suspect Michael Grubbe in May 2017 ((PPR #72). Portland Copwatch pulled the item from the "consent agenda" to force a discussion. It turns out the officers fired a shotgun, which is one reason there were so many bulletholes. Rather than talk about reconsidering firing guns in populated neighborhoods, the Bureau said they were going to check the sights on the shotguns.

--Jess Brockner, who was shot by Officer David Staab last August, pleaded guilty to bank robbery and a firearms charge which led to a sentence of 10 years in prison (Oregonian, August 15). The Oregonian article on the plea deal says Staab shot Brockner because he "refused police orders to get out of the vehicle and was shot in the neck" (May 2).

September, 2018
Also in PPR #75
• PPB Car Chase Leads to Deadly Crash
• OR Shootings Hit Annual Average by July
• Police and "Union" vs. Houseless People
• Review Committee Shunned, Seeks Change
• Oversight Report Drops Force Data
• Portland Police Collaborate with ICE
• Terror Task Force in the News
• COCL Says DOJ Agreement Almost Done
• Training Council Streamlines Processes
• Police Crack Down on Antifascist Rallies
• Chief Gets Press, Starts Strategic Plan
• Sheriff Actions: Pro and Con
• Copwatch Comments on Bureau Policies
• Quick Flashes #75
• PPR's 25th Anniversary
• PPB Cop Uses 'N' Word / Profiling Updates
• Supremes Uphold Cell Phone Privacy
• Rapping Back #75