Training Advisory Council Streamlines Process for Recommendations, Commenting on Race and Force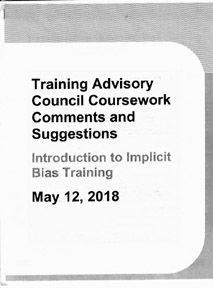 At their July meeting, the Training Advisory Council (TAC) formally approved two sets of recommendations, though each had already been presented to the Bureau as requests. The more recent recommendations came from four of their approximately 15 members who attended a "trial run" of the Bureau's implicit bias training. The older ones, dated June 2017, focused on training and Use of Force reports. They were discussed last year but weren't officially adopted until 13 months later. Also in July, the TAC voted to support member Danielle Droppers' proposal that Force data include City demographic numbers as a point of comparison (PPR #74).
Perhaps turnover prompted the newfound action on the TAC's part: Captain Bob Day, who took over for Brian Parman in July 2016, was promoted to Deputy Chief, leading to the May appointment of former Internal Affairs Lt. Erica Hurley as Captain of Training. Co-chairs Sushanah Boston and Rio Rios were termed out that month, and Shawn Campbell was elected as the new Chair. (Rios resigned months earlier for personal reasons.)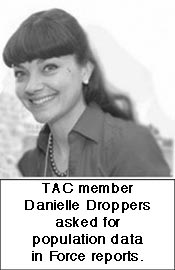 The comments about implicit bias training focused a lot on the Bureau's strategy, which apparantly involves training officers to unlearn racism without head-on discussing race. The TAC asked the Bureau not to "water down the material so much that it's irrelevant." Captain Hurley stated the training would come in at least two parts and they were witnessing part one. Since this training was originally designed by the Community / Police Relations Committee in 2012, and a form of it was given to command staff, then Sergeants in 2013, it is unclear why it is taking so long to get to the rank-and-file. TAC's comments were strong-- a good sign considering they have not had any African American members for several years.
At the May meeting, the Bureau talked about its recruitment process and an on-line "dashboard" where they are now posting Use of Force data. As usual, they did not talk about the data in recent publications-- the annual and Q1 2018 force reports were available at the time. For the record, the The Q1 2018 Report showed African Americans received a high 31% of force despite being just 6% of Portland's population. It also showed "transients" made up 47% of those subjected to force, while it is said they are just 3% of the population (article). Again, TAC members asked probing questions about potential racial bias in both the recruitment and force data discussions.
The TAC's 2017 recommendations included suggestions about the Taser policy, learning processes, and recommendations about the Force reports, some of which did not get implemented. One such proposal was that the Bureau should include force data for crowd control in quarterly reports. The annual Force Data report for the 2017 includes force at crowd incidents, but not, for instance, pushing people around with batons (see PPR #72). The separate 2017 Force Audit report lists specific incidents which were found out of policy, but most were technical errors such as improper reporting.