Police Association Contract Campaign 2019-2021
(this page created by and hosted by Portland Copwatch;
we do not speak for all groups participating in the campaign)
---
Beginning in early 2019, Portland Copwatch has been working with a number of other groups on a campaign to improve the City's contract with the Portland Police Association.

UPDATE SEPTEMBER 2021:

In June, after five months of alternating public and closed-door meetings, the City and the Portland Police Association took contract negotiations into mediation, which started in late July. Updated Tentative Agreements are being posted to the site https://www.rethinkportland.com/ppa-contract

It is unknown whether a contract will be agreed upon in mediation that will then head to City Council for affirmation, or if the contract will head into arbitration where the arbitrator decides whose proposal should previal. They are not allowed to pick and choose individual clauses from each side.
---
UPDATE JANUUARY 2021: Negotiations are scheduled to re-commence on January 13, 2021 at 9 AM via Zoom. The City has posted ground rules that people attending as observers must agree to follow.
---
UPDATE DECEMBER 2020:
On December 10, 2020 a new letter to Council signed by over 30 community groups was published outlining important changes that need to be made to the contract. The effort is headed up by Unite Oregon.
A mirror version of the letter can be found on Portland Copwatch's website where additional signatures will be added between December 16 and January 4.
---
On August 26, 2019 PCW cosponsored a forum on the contract organized by the Albina Ministerial Alliance Coalition for Justice and Police Reform.
On September 11, 2019 Oregon Action released a letter to City Council outlining demands for the contract which has signatures from roughly 30 organizations. A summary of the letter's main points can be seen below.
Portland Copwatch has posted an annotated version of the letter which points to specific problem areas in the contract.
On September 24, 2019 Portland Copwatch, Oregon Action and other groups involved in the campaign released a letter focusing on items which should be negotiated-- but should not be in the contract itself.
PCW also annotated this second letter.
In November/December 2019, the City collected information from the community to help them prioritize their negotiations.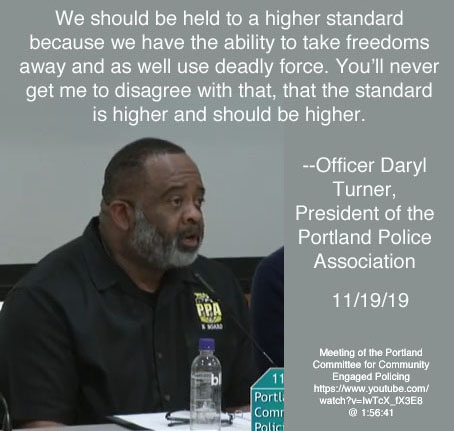 Mayor Wheeler and Commissioner Hardesty held a community forum at Portland Community College-Cascade on November 18, 2019 where three of the main concerns of the community letter-- Deadly Force, Accountability (disciplining officers appropriately), and Oversight (an empowered civilian-run system) raised to the top of the list.
A second forum was held on December 16, 2019 at PCC's Southeast Campus.
The community was encouraged to turn out to give the City the information it failed to seek in 2016, when police violently cracked down on protestors opposing the rushed contract approved then.
Also turning in our favor, then-Portland Police Association President Daryl Turner appeared at a meeting of the Portland Committee for Community Engaged Policing on November 19, 2019 and expressed in no uncertain terms that he agrees officer need to be held to a higher standard because they can restrict people's liberties and use deadly force.
In late November 2019, Portland Jobs with Justice posted a series of informational graphics about the campaign which you can use for your information and/or share with others. (The above link is to Instagram, you can also see the graphics on facebook.)
---
SUMMARY OF COMMUNITY DEMANDS FOR THE 2020 CONTRACT
including updated information from November 2019

The contract between the City and the PPA has been a major barrier to police accountability in the past. Now that negotiations are opening up, let's take the opportunity to change that in the following ways:

*- The City must be clear with the public about the timeline for negotiations, and the process to set the City's bargaining priorities. The City should be commended for holding community listening sessions because Portlanders deserve the chance to raise our voices about what we'd like to see in the next contract, and bargaining priorities should be set through a public process.

*- We should improve our civilian oversight system by giving civilian oversight agencies explicit jurisdiction in deadly force cases, the power to compel testimony from officers in any investigation, and the ability to recommend appropriate discipline for misconduct.

*-Additionally, police officers should not receive special rights in disciplinary interviews that are not extended to everyday Portlanders in interrogations.

*- The City must create a system to fire officers who use excessive force, exhibit racism, or engage in other forms of bias-based, oppressive policing.

*- After an officer uses or attempts to use deadly force against the public, they should be tested for drugs, including steroids.

*- Any member of the public who files a complaint against an officer should ensure that their identity and personal information are protected from disclosure to the officer who is the subject of the complaint.

*-In the negotiations for the 2016 contract, the City traded away millions of dollars in pay raises and other line items, without meaningfully improving accountability or oversight of the police except for removing the "48 hour rule." We cannot let that same situation repeat itself.

Public trust in the Portland Police Bureau is at an all-time low. We need our City Council to step in and start to restore that public trust by ensuring that the Portland Police Association contract serves the community and promotes police accountability.

Thanks to Unite Oregon and others involved in the Campaign for the basic language used in this section.

---Portland Copwatch
November 23, 2019
---
RESOURCES
National Best Practices
On October 1, the national group Campaign Zero detailed a powerpoint presentation to City Council on national best practices for police "union" contracts and policies.
Community Demands
• Letter to City Council outlining demands for the contract
• Annotated version of the letter
• Second letter focusing on items which should be negotiated but should not in the contract
• Annotated version of the second letter
• AFL-CIO resolution on criminal justice reform (summer 2019)
• 2016 letter to Council from Portland Copwatch, the AMA Coalition and the NAACP.
Excerpts from the August AMA Coalition Forum on the Contract
2.5 minute clip from Flying Focus Video Collective
Portland Police Association Contract 2016-2020
Link to contract
Information on Past Negotiations
2016
New Portland Police Contract: A Rush Job and a Hatchet Job
Fact sheet about the 2016 contract

2013
PPA Contract Negotiations: Off Again, On Again
Police Association Contract: More Behind-The-Scenes Negotiations Produce Similar Results
2011
Portland Police Association Contract: What Did Portland Buy for $5 Million?
Police Association Public Meetings: Real Decisions Made Behind Closed Doors
---