Site Navigation
Home

About us
People's Police Report
Shootings & deaths
Cool links
Other Information
Contact info
Donate

Welcome to the Portland Copwatch Web Page
---
Portland Copwatch is a grassroots, volunteer organization
promoting police accountability through citizen action.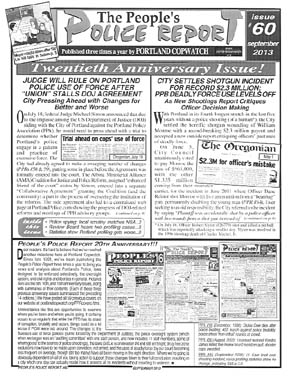 • Learn more about Portland Copwatch • Visit some cool links
• See our wish list (updated 8/12) for ways to support PCW
• Look at our Glossary last updated 2/3/15


---

Newsletter
Check out our newsletter, the People's Police Report (published 3 times a year)
NEW! People's Police Report #66 (September, 2015)
(text only-11/15)
-> .pdf of PPR #66 (4.4 megs)
People's Police Report #18, 44
and other older PDFs now on line for the first time! 7/15-11/15
See thumbnail images of issues #1- 60 of the
People's Police Report (posted in honor of our 20th anniversary issue!)
---
Shootings and Deaths in Custody
Information on Portland Police shootings and deaths in custody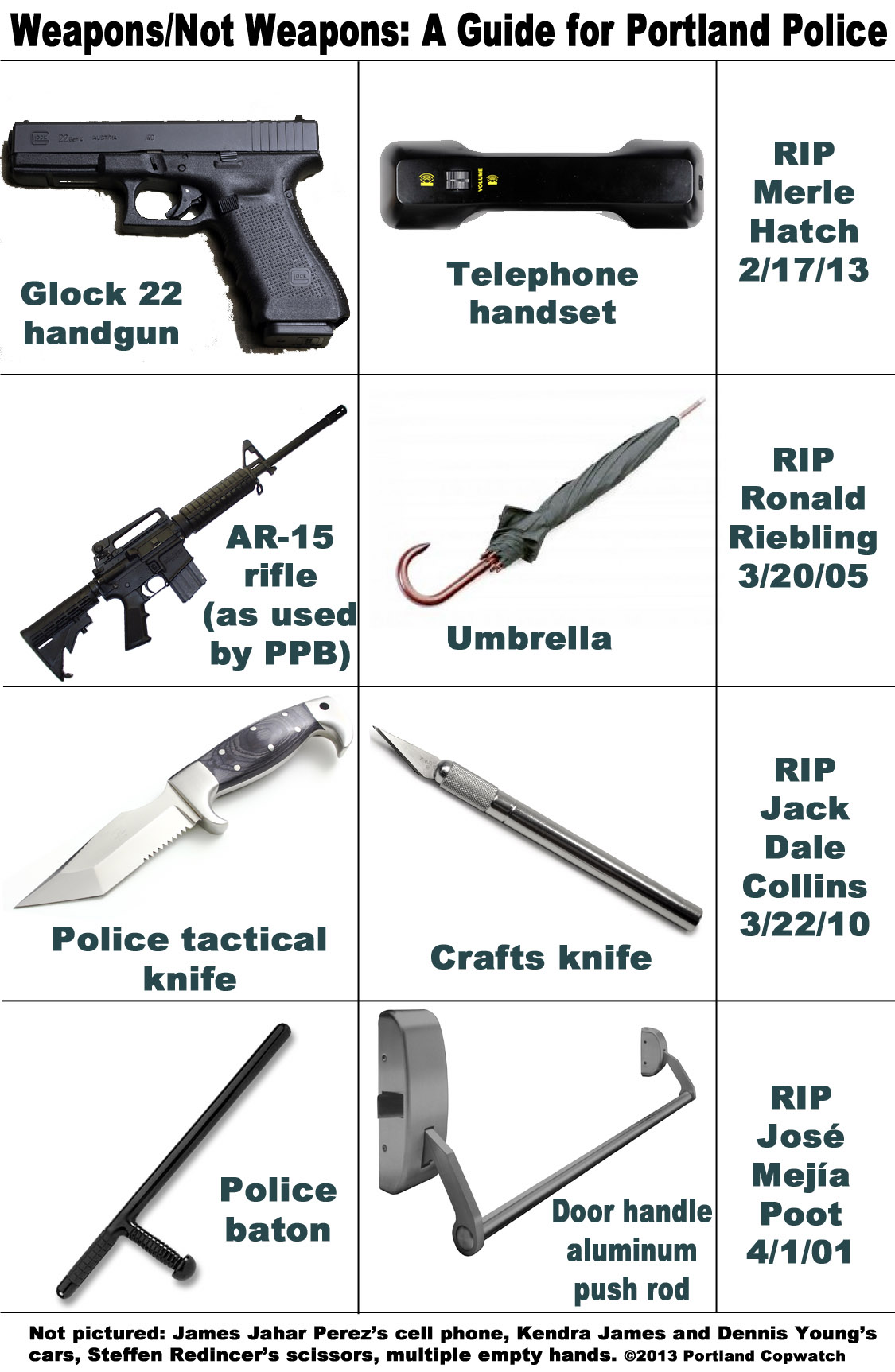 Weapons/Not Weapons Flash Cards for the PPB
(added 2/21/13)

Info includes the shootings of Aaron Campbell and Keaton Otis
the in-custody death of James Chasse, Jr.
and the shootings of James Jahar Perez and Kendra James

List of shootings and deaths 1992-July 2015 (Updated 7/10/15)
PCW compiles list of shootings which Oregon forgot to do
• See our spreadsheet of Oregon deadly force incidents 2010-2014 (updated 1/21/15)
• Read the letter to OR Attorney General Rosenblum about the list
• Check out the article in the Skanner with an interactive map of the shootings
Brief Analysis of OIR Group's 2014 report on Portland Police shootings
(3 pages, 12/17/14)

Analysis of OIR Group's 2013 report on Portland Police shootings
(8 pages, 7/16/13)

Analysis of OIR Group's 2012 report on Portland Police shootings
(7 pages, 6/5/12)
Back to top

---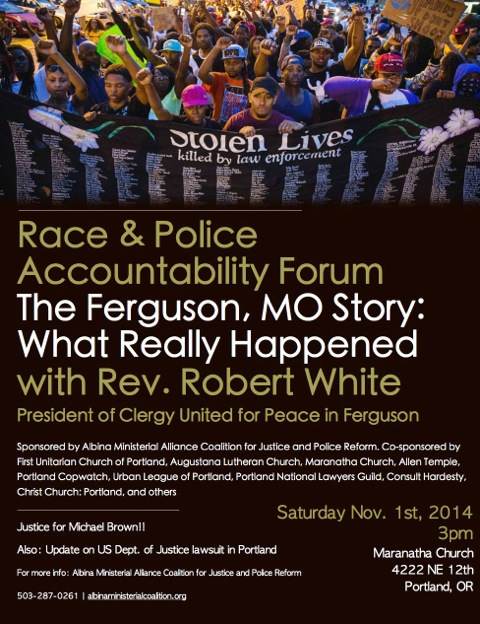 Portland Copwatch Activities
SATURDAY, NOVEMBER 1, 2014, 3:00 PM
Race and Police Accountability Forum:
"The Ferguson, Missouri Story: What Really Happened"
with Rev. Robert White, President of Clergy United for Peace in Ferguson
Flyer • More info • Facebook event*
Portland Copwatch deflected from getting meeting with Mayor Hales April-July 2014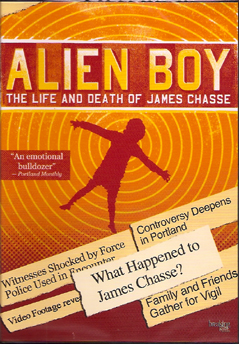 NOW AVAILABLE FROM PORTLAND COPWATCH (April 2014):
Copies of "Alien Boy: The Life and Death of James Chasse, Jr" on DVD!
Send $15 check or money order to
Portland Copwatch/Peace and Justice Works
PO Box 42456, Portland, OR 97242
(Sorry, we can't accept payment for DVDs or other items via our web donation page)


Information on US Dept of Justice Agreement
In 2012, the US DOJ found a "pattern and practice" of excessive force by the PPB.
COMMUNITY ROCKS THE FAIRNESS HEARING!
Tuesday, February 18, 2014, 9:00 AM, Federal Courthouse, 1000 SW 3rd
Dozens testified whether the DOJ Settlement Agreement is "fair, adequate and reasonable"

Read the court transcript

The DOJ page on our site includes links to documents including:

Portland Copwatch's testimony to the federal court
on the "fairness" of the Settlement" (January 31, 2014):
• pdf format (16 pgs) • text format (Intro + 11 sections with links)
Portland Copwatch analysis calling US Department of Justice / City of
Portland Agreement "a plastic mallet to hammer in a problem nail":
• 7-page Analysis in PDF format • Analysis in html (text) format (with links)
• Analysis of proposed changes to the Bureau's Directives
<!- -/b-->


-> Look here for announcements of upcoming
Orientations, Your Rights and the Police Seminars
and Copwatch Trainings
Contact us if you want us to provide a training for your organization!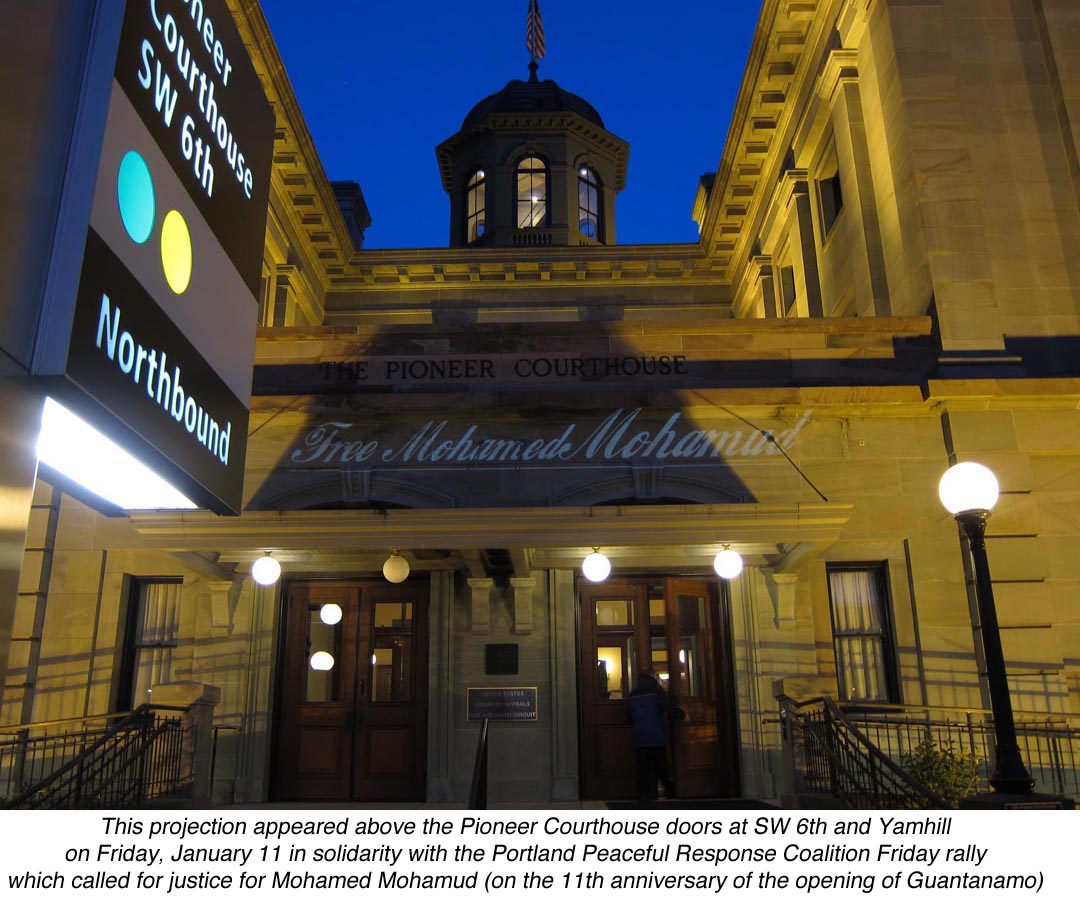 End FBI Stings!
The Sentencing of Mohamed Mohamud set for Thursday, June 27
December 18, 2013. on hold!
Wednesday, October 1, 2014
Mr. Mohamud was set up by the FBI in a sting operation similar to many
others around the nation. His January trial ended in a guilty verdict.
The sentencing originally set for June 27 then delayed to December 18, 2013
has been canceled while the revelation that the US used warrantles wiretaps is examined.
Download and read our background fact sheet on FBI stings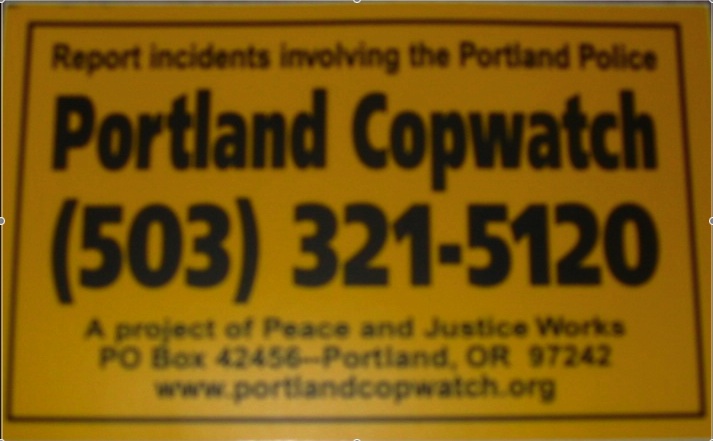 Copwatch stickers available
Hey! Would you like to have your very own Portland Copwatch sticker? Decorate your bike, car, backpack, notebook, front porch, or whatever! Send us a self-addressed, stamped envelope. We can send up to 8 4"x2.5" stickers for 1 stamp.
Changes to Portland's Civilian Oversight system
Depsite the community waiting for nearly 2 years to strenghten the Independent
Police Review Division (IPR)'s Citizen Review Committee (CRC), Council voted in
only 4 significant changes to the ordinance on December 14, 2011, one of which
weakened the CRC.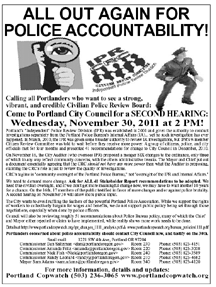 Read more on our page about the police oversight system including:
Portland Copwatch's analysis of the "Standard of Review" for the
Citizen Review Committee (4/8/11-.pdf)


Portland Copwatch participated in the Mayor's Racial Profiling Committee
from January, 2007 until it was disbanded in late 2008.
(We are monitoring the Office of Equity and Human Rights' efforts to continue the work.)
Back to top
---
Other Portland Police Accountability Stuff

, More Details Expose System Failure
(10 pages, 10/31/14)
* IPR 2012 Annual Report , Draws Attention Away from Shortcomings of System
(7 pages, 5/31/13)
* IPR 2011 Annual Report , Shares Little Analysis, Uses New Statistics but Old Examples
(5 pages, 7/30/12)

Read an analysis of the Auditor's "Independent Police Review Division",
showing that it acts to shield police from scrutiny (5/21/01)
Portland Votes to Withdraw Officers
from Joint Terrorism Task Force (April 28, 2005)
Report and background information on historic 2005 vote
---
Reports
On This Page
* denotes recent New info

Newsletter info*
PPR #66 online 11/15
Shootings & deaths
State list 2010-2014
Portland CW Activities
Other info
Police Review Board 7/15
Reports
Information
Top 25 settlements
Archives
Contact info