2022's Record 42 Deadly Force Incidents
in Oregon Shared with Attorney General
11 Shootings So Far in 2023 on Track for Similar Heights
When we published our last issue in December, we reported there had been 40 shootings by law enforcement in Oregon in 2022. A 41st took place in Clackamas County on December 22. In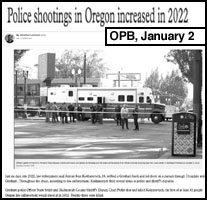 February, Portland Copwatch (PCW) shared data on those 41 shootings, as well as the Washington County Deputy who stabbed a suspect (PPR #88), with Oregon Attorney General Ellen Rosenblum. The state is supposed to track at least cases in which police kill people according to SB111 (a law from 2007). But PCW found only 59% of the incidents from the past five years are on the Oregon Department of Justice website. No media attention came from PCW's letter despite the record high total. Earlier, on January 2, Oregon Public Broadcasting (OPB) relied on our data to report the totals. The year 2023 began with a deadly force incident in Albany on January 2. With that shooting and one in Portland by Multnomah County Deputies (see shootings article in this issue), there have already been at least eleven incidents this year. That means there will likely be close to 40 again this year unless police can control themselves.
Here are the recent incidents:
--On April 10, Oregon State Trooper Andrew Tuttle shot Felipe Manzo, 31, when Manzo was allegedly holding a truck driver at gunpoint, then shot at Tuttle. Manzo ran away but died from the wound (KATU-2TV, April 11).
--On April 6, an unnamed Lane County Sheriff's Deputy shot and killed a man in Eugene who was reportedly intoxicated and holding a pellet gun (OPB, April 7).
--On April 4, an unnamed Boardman Police officer shot at a vehicle being driven by Gregory Salverda, 52, after he allegedly fled from a Morrow County Deputy's traffic stop. Salverda was charged with attempt to elude and DUII, but no violent offenses (East Oregonian, April 5).
--On March 21, two unnamed Linn County Sheriff's Deputies shot and killed Noah David Colgrove, 30, near Cascadia, when they "confronted" Colgrove over a disturbance call; they say he was armed (OPB, March 22).
--On February 28, Roseburg Police officer Jerry De La Fuent shot and killed Mia Tulasi Dasa, 20, who allegedly injured several people by stabbing them at a temporary warming shelter at the Roseburg Senior Center (KQEN-1240AM, March 10). Police say they tried to de-escalate and use less than lethal weapons (KPTV-12, February 28).
--On February 14, Clackamas County Deputies Sam Eason, Chris O'Connor and Scott McBride shot and wounded Brandon Gilpin, 29, and Felisha Cunningham, 34, after the police crashed into the front and rear of a stolen car in Wilsonville following a pursuit. One of the occupants allegedly fired a weapon at them (Oregonlive, February 22).
--On February 8, Albany Officers Eric Tress and Ken Fandrem shot and killed Julius Hamilton, 34, when he reportedly shifted from pointing a gun at his own head and threatening suicide to emerging from his car and pointing the gun at officers (Lebanon Local News, February 10).
--On January 23, Salem Police Senior Officers Justin Carney and Robert Acosta, Corporals Kristy Fitzpatrick and Adam Waite, and Officer Reece Mathis shot and killed Michael James Compton, 27, as they were investigating an armed robbery and "exchanged gunfire" with Compton (OPB, January 23).
--On January 4, two unnamed Boardman Police Officers shot at Matthew Louis Spargo, 39, who had supposedly violated a restraining order, during a traffic stop. Spargo was not injured (KTVL- 10TV, January 6).
--On January 2, unnamed Oregon State Police Troopers shot and wounded Stephen Schmidt- Shelton, 40, in Albany after a car chase when he allegedly shot at them and they "fired rounds at him until he was struck in the face and fell to the ground." He later said he had been suicidal (Albany Democrat Herald, January 5).
--On December 22, Clackamas County Sheriff's Deputy Isaac Bailey shot and wounded Jason Lee Savage, 53, following a domestic dispute when he allegedly came out of a home near Estacada carrying a gun (Clackamas County Public Information Office, December 27).
Notably, the officers' names are not known in five of these incidents, and the victim's name in one.
---

This year's running list of statewide shootings includes five incidents from Lane County which PCW had not found in earlier research; two from 2012, two from 2014 and one from 2015. None were fatal. Overall PCW has tracked 386 deadly force incidents from 2010-2022.

---
In other state shootings news:
--At deadline for PPR #88, we did not have the name of the person killed by Brookings Police on December 10; it was Justin Ruddell, 41 (Curry Pilot, December 20). Even though the DA cleared two officers of wrongdoing in February, their names have not been released (KTVL-10TV, February 16).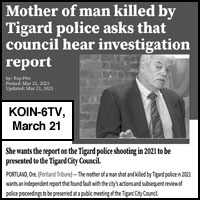 --In early March, Oregon state police settled with the family of Robert Box, who was killed in 2015 (PPR #66), for $1.6 million and an apology (Oregonlive, March 13).
--The OIR Group's report on the killing of Jacob Macduff by Tigard Police in 2021 (PPR #83) included a scathing indictment of the officers' actions and the department's policies (Portland Tribune, February 20). As a follow up, Macduff's mother urged Tigard City Council to hear the report at a public meeting (KOIN-6TV, March 21).
--In February, Governor Tina Kotek named Casey Codding to be the new superintendent of Oregon State Police (Oregonlive, February 15). After years of hiding his name from the public, the media finally revealed it was Codding who shot and killed LaVoy Finicum as part of the Malheur Wildlife Refuge standoff in 2016 (PPR #68). Codding was also involved in the shooting death of Samuel Mullane in Lincoln County in 2012 (PPR #57).
See PCW's letter to the attorney general at portlandcopwatch.org/OR_shootings_letter0223.pdf.

Find Oregon Deptartment of Justice offical data at
justice.oregon.gov/deathincident/ho me/search.