Police Accountability Commission Gets More
Time to Design New Oversight System
by Philip C.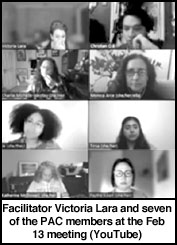 The Police Accountability Commission (PAC) has been working hard to design a new civilian-led police oversight system. They began meeting in December 2021 and are now in the Structure and Details phase where they are creating recommendations on Board Membership, Reporting and Transparency, and Oversight Staff. They also spend time meeting with officials, stakeholders, and the public to seek input and recommendations. All this work amounts to at least 2-3 official meetings per week and often more for committee co-chairs.
In January and February, the PAC finished the work of its previous phase, creating an outline for how a case about police misconduct will move through the system (Officer Accountability), ways the staff and Board will get the documents and evidence they need (Access to Information), and how the Board will make recommendations (Structural Oversight).
The PAC asked City Council to make their deadline match the one specified in an Amendment to the US Department of Justice Settlement Agreement, giving them until October 29, 2023 to complete their work. City Council had been ignoring their request but, on March 22, finally increased the PAC's deadline from June 9 to August 31, a compromise between City Council's rushed deadline and a step closer to the official deadline specified in the agreed-to Amendment.
During City Council hearings, Mayor Wheeler likes to joke about how little the PAC is being paid for their work and the intense demand for time he's expecting of the PAC members. I believe Wheeler thinks he's praising the PAC members for their volunteer work but it comes off, to me, as manipulative flattery to acquire free labor at the expense of people's mental health, well-being, and the well-being of the community. The government should thank volunteers by providing them resources, time, and attentiveness, not laughing at how little they're being paid and failing to respond to requests in a timely manner.
For more information on the PAC, go to portland.gov/police-accountability.