"Constitutional" Sheriffs: A Troubling Trend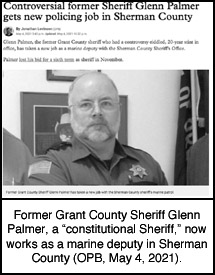 Constitutional Sheriffs believe that they have the ultimate authority to interpret as well as enforce laws. From the Constitutional Sheriffs and Peace Officers Association (CSPOA) website; "The law enforcement powers held by the sheriff supersede those of any agent, officer, elected official or employee from any level of government when in the jurisdiction of the county."
The founder of the Constitutional Sheriffs and Peace Officers Association (CSPOA) is Sheriff Richard Mack, who is retired. He was on the founding board of The Oath Keepers. According to the Southern Poverty Law Center; "The Oath Keepers, which claims tens of thousands of present and former law enforcement officials and military veterans as members, is one of the largest far- right anti-government groups in the U.S. today." In 2021 and 2022, Mack and his wife have been driving around the country in a large RV recruiting people to join a posse and to convince their sheriff to join CSPOA, or to elect someone who shares their vision. They are anti- immigration and pro-gun. While the Portland metro area (Multnomah, Clackamas and Washington Counties) is lucky enough to not have any openly "Constitutional" sheriffs, there have been a few in Oregon including former Grant County Sheriff Glenn Palmer, who came to prominence during the occupation of the Malheur Wildlife Refuge in 2016.