Reese's County Pieces PPR #87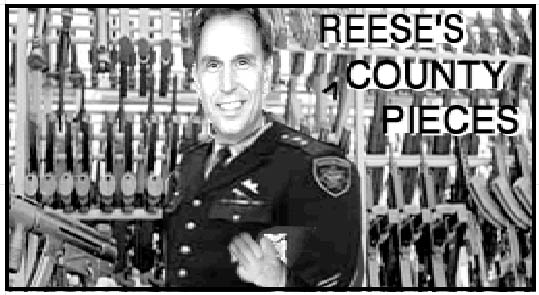 Sheriff's Office Refuses Investigation into Offensive Commemorative Coin
Local journalists at Street Roots have been investigating a commemorative coin created by a Multnomah County Sheriff's Office (MSCO) Deputy with the mysterious acronym NPNBW. The coin includes the date May 29, 2020, an image of the Justice Center in flames (when protestors set fire to that building), a reference to the Alamo and the abbreviation for the MCSO's Corrections Emergency Response Team (CERT). On June 15, the paper revealed that NPNBW likely stands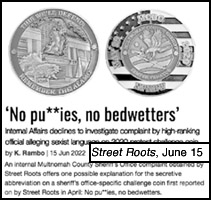 for "No P**sies, No BedWetters." They identified Deputy Daniel Szarowski as the person who likely "minted" the coin. Although Sheriff Mike Reese's chief of staff Katie Burgard filed a complaint listing various policies that seem to have been violated, Internal Affairs declined to take up the case. Instead they said they would debrief CERT members about "awareness of discredit to the agency and appropriate use of MCSO name and insignia."
New Sheriff in Town, Again
We've lost count of how many people have had the title of Sheriff since Portland Copwatch began in 1992. Since Reese was term limited out, an election was held in May (PPR #86). Partly because she did not answer our questionnaire (unlike her key opponent), PCW does not know much about Nicole Morrisey O'Donnell other than what was in the voters' pamphlet and the media about her. PCW has met with several of the Sheriffs over the years and hopes to get a meeting with Morrisey O'Donnell to report on in future newsletters. For what it's worth, she is the first female elected Sheriff in the county.