Site Navigation
Home
About us
People's Police Report
Shootings & deaths
Cool links
Other Information
Contact info
Donate
Oversight Group for New Gang Team
Makes Controversial Recommendations
The Focused Intervention Team Community Oversight Group (FITCOG), which oversees the most recent version of the Gang Task Force, has been meeting weekly. In July, they submitted a formal recommendation to Mayor Wheeler that the City should buy and implement the ShotSpotter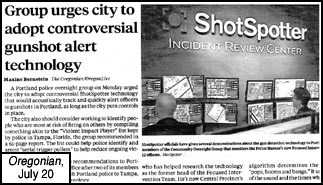 program along with a few additional recommendations. ShotSpotter is a program where the police install listening devices in areas known for gun violence and when a loud noise occurs, like a gunshot or possibly a firework or car backfire, the police are notified and the program triangulates the location of the noise so the police can quickly respond to the scene.
Many community members who commented on the ShotSpotter program, including Portland Copwatch, have concerns. Some concerns include: giving additional powers to the police, the inaccuracies of the program, the enlargement of the police budget, the possible civil rights violations of recording devices running throughout the city 24/7, police bias against black and brown people, and the danger to the community when police race to the scene expecting to find people shooting guns. In addition, the police are having trouble responding to 911 calls as it is and adding ShotSpotter to the mix may either increase response times across the board or the police may choose to disregard ShotSpotter altogether because repeatedly showing up to car backfires is a waste of police resources.
Take, for instance, Sergeant Kenneth Duilio, Acting Lieutenant of the FIT. In 2001, Bruce Browne, a Black man who happened to be at the scene of a robbery, successfully disarmed the robbery suspect but Sergeant Duilio arrived at the scene and shot Browne (PPR #24). Luckily, Browne survived and eventually the City reached a settlement with him for $200,000. The leader of FIT, the same officer who recklessly shot the man who successfully de-escalated that situation, thinks it's a good idea for officers to rush to the scene of ShotSpotter reports with guns drawn ready to shoot.
One concerning FITCOG recommendation is the creation of a new "gang list." This time they call it the Violent Impact Players (VIP) List, which would be created so the police can more easily track, stop, search, and arrest people who they predict are more likely to commit future gun crimes. On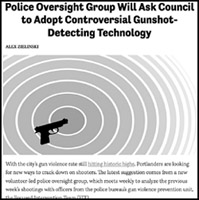 the one hand, FITCOG says they don't want marginalized communities to be over-policed but on the other hand, they want to create a list of potential suspects of future crimes for the police to over- police. They explain that ShotSpotter will somehow make the VIP list fair by narrowly targeting people in the area where gunshots occur rather than randomly stopping and searching people on the City's old "gang list." FITCOG recommends that the City use "data" and "best practices" to create a list of people to target as potential future gun criminals but fails to go into specifics within their recommendation and fails to recommend an appeals process for people who are placed on the VIP list. The old "gang list" along with Gang Task Force officers disproportionately targeting black and brown people with frequent stops, searches, and intimidation were the main reasons Portland disbanded past versions of the Gang Task Force (PPR #81). It looks like FITCOG has become the new cheerleaders for bringing back the old disparaged and discriminatory policing program.
In early August, Commissioner Jo Ann Hardesty, who had initially refused to appoint members to the FITCOG fearing just such an outcome, nominated three members as per the Resolution that created the Group. FITCOG members raised concerns about Hardesty invoking this right. When the matter came before City Council, Mayor Wheeler withdrew the nominations citing administrative reasons. Turns out, Council doesn't have to approve Hardesty's nominees (Mercury Blog, August 10).
Find info on the FIT Community Oversight Group at portland.gov/fitcog

September, 2022
Also in PPR #87
• Portland's New Gang Team Shoots at Three
• Ongoing Trend of More Deadly Police Shootings in OR
• DOJ Lambastes City for Failures to Comply
• Dubious Ideas from Gang Team Advisory Group
• Staff Leaving More Independent Police Review
• IPR Annual Report Continues to Lack Adequate Info
• Oversight Commission Begins Research Phase
• Inhumanity Towards Portland's Houseless People
• Sheriff: No Discipline for Offensive Coin
• More Protest Violence Suits Cost City Big Bucks
• Biased Force Use Ignored at Training Council
• Quick Flashes PPR #87:
• Suit for City Records Has Unintended Consequences
• Ex-Cop Who Rammed Suspect Pleads Guilty
• Forest Grove Cop Convicted for Vandalizing BLM Signs
• PPB Traffic Stop Data: More People of Color Targeted
• Bunch of Cops on "Brady List"
• Copwatch Helps Thwart Scams by Transfer Officers
• Keaton Otis Remembered, 12 Years Later
• "Constitutional" Sheriffs: Troubling Trend
• Police Ask Input: Crowd, Force, ID Policies
• Rapping Back #87