Trend of More and More Deadly Police Shootings
Continues Across Oregon
As of mid-August, it appears that law enforcement in Oregon have so far been involved in 27 deadly force incidents, two more than Portland Copwatch found by last year at this time. However, the percentage of those killed by police (as opposed to wounded or not hit) is higher than normal. Usually only 56% of those shot/shot at or killed by police in custody are incidents ending in death. Of the 27 this year, only ten have escaped with their lives, making the kill rate this year 63%. PCW reported on just nine shootings in PPR #86, but there were three non-fatal incidents we discovered later which are included here. Other than the alarming five incidents in Portland (see the shootings article in this issue), here's what has happened since April, plus those three earlier cases.
--On August 17, as we were going to press, several police agencies shot at a suspect at a casino in Pendleton, wounding the suspect and a bystander (KGW-8TV, August 17). More details in our next issue.
--On August 4, police in Klamath Falls shot and killed Matthew Vaughn, 29, when he allegedly ran at them with a knife (KOBI-5TV, August 8 and Klamath Falls Herald and News, August 10).
--On July 30, two McMinnville Police officers fired bullets toward Dillan Cashman, 32, who was shooting off fireworks, and perhaps also a weapon, in what was a three-hour-long standoff where the man ultimately surrendered (KPTV-12, July 31 and KGW-8TV, August 1).
--On July 22, members of the Jefferson County Sheriff's Office-- perhaps including Sheriff Jason Pollock himself-- shot and wounded Rafael Gomez, 29, after he allegedly grabbed a gun from a vehicle at the County Fairgrounds in Madras and pointed it at people, ran out onto the highway, and pointed the rifle at a gas station attendant. Officers chased Gomez, who reportedly fired the rifle at police. Officers shot back (Bend Bulletin, July 25).
--On July 13, Salem Police Officers Brian Frazzini, Erick Hernandez, Ryan Morris and Adam Waite shot and killed a juvenile, 16-year-old Robert Fletemier-Brown, during a "shoot-out" as they approached his house to serve a warrant for suspicion of two other shooting incidents (Oregonlive and Salem Statesman Journal, July 14).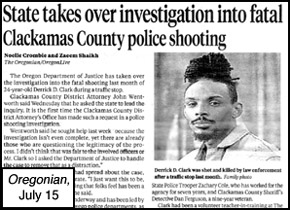 --On June 18, Clackamas County Sheriff's Detective Dan Ferguson and Oregon State Police Trooper Zachary Cole shot and killed Derrick Dewayne Clark, 24, after a standoff in Milwaukie (KOIN-6TV, June 21). Clark, a young black man, had survived prison and was mentoring youth with a nonprofit. The State Attorney General's office is investigating the shooting, but given the track record of the few cases they've been involved with to date (PPRs #76 and PPR #84*, Philip Moskios and Robert Delgado cases), we're not holding our breath.
--On June 10, Coos County Sheriff's Detective Aaron Whittenburg and Coos Bay Police Officer Dan Henthorn shot and killed Matthew Mikel, 37, a suspect in a murder case, when he allegedly pointed a knife at officers inside a hotel room in Coos Bay (Oregon Beach Magazine, June 16).
--On May 25, Douglas County Sheriff's Deputy Brian Melvin shot and killed Spencer Cassanova Heckathorne, 60, after he allegedly rammed their vehicle, was "uncooperative" and "engaged" the Deputy (KEZI-TV9, May 26 and Roseburg News-Review, June 8).
--On April 25 (a few days after PPR #86 went to press), Marion County Sheriff's Deputy Tyler Morrow shot and killed Micaiah Clinton, 27, after he allegedly fired more than a dozen bullets at officers following a standoff at a truck stop south of Portland. A Woodburn officer was wounded by Clinton's gunfire (Associated Press, May 10).
While not a direct deadly force incident, on May 4 Oregon City Police chased an unidentified driver they saw speeding, and that person crashed their car and died (Oregonlive, May 5).
Earlier this year:
--On March 6, Oregon State Trooper Carter Ellis shot and wounded Cole Reeves, 25, on I-5 near Grants Pass when Reeves allegedly came toward him with two knives and said "I have to be shot" (Medford Mail-Tribune, March 15).
--Also on March 6, Josephine County Deputies and Oregon State Police shot Thomas Rockholt, 44, wounding him in the abdomen and elbow, after he allegedly confronted them while they investigated two homicides on the property where he lived in Selma (KRDV-12TV, March 10).
--On April 2, Medford Officer Joshua Marshall shot at Tyler Delugach, 24, who was armed and threatening to take his own life; the official story is that Delugach wounded himself and the officer's bullets hit his car (Medford Mail-Tribune, April 14).
*- corrected from print edition which stated PPR #84 and PPR #89.
Back to text.
Find PCW's annual letters on statewide deadly force incidents at portlandcopwatch.org/shootings.html