Law Enforcement Use of Deadly Force
Only Down Slightly in Oregon
22 Shootings by July 26 Means This Year Will Come Close to 2022's Record
In addition to the three incidents in Portland, two by Portland police (one involving Clackamas Deputies) and the other a US Marshal (see Shootings article), there have been at least eight other officer uses of deadly force in Oregon since the end of April. Clackamas County Deputies, who were tied for the fourth most shootings by any agency in the state, have been involved in five shootings this year, two deadly, and one wild shooting of a vehicle's tires (more below). This brings the total to at least 22 incidents in 2023, meaning there could be close to the 42 which broke a record in 2022 (PPR #89). Here are the details of the recent incidents:
--On July 26, an unnamed Washington County deputy shot at Kristafer Graves, 34, who'd fired through a door and hit a deputy serving an eviction notice in Tualatin. Graves was found dead, though it is unknown whether it was by his own hand (KGW-8TV, July 30).
--On July 21, unnamed Douglas County deputies shot and wounded David McKinsey-Pace, 30, in Roseburg following a car chase, after McKinsey-Pace allegedly rammed a patrol car with a stolen vehicle (KEZI-9TV and KPIC-4TV, July 21).
--On July 12, unnamed Clackamas County deputies shot out the tires of Patrick Landers, Sr. as he drove past their barricades to get closer to where his son, Landers, Jr., had been the victim of a murder-suicide in Damascus (KOIN-6TV, July 13).
--On June 30, Clackamas County Deputies Dan Blair and Jeremy McKenna were wounded by gunfire, and at least one shot back at the two suspects, missing them (Clackamas County, July 11). The men, Tyler James Scott, 32, and Joseph Shaffer, 46, were not hit; the deputies are recovering from their wounds (Portland Tribune online, July 4). So far as we know this was the only law enforcement use of deadly force in the state in the month of June.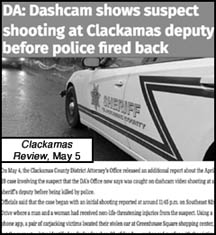 --On May 26, Medford Officer Levi Moffitt shot and wounded Lucas Atkins, 40, after he allegedly broke into another person's home carrying a loaded rifle and did not put it down when ordered (KOBI-5TV, June 2 and Jackson County DA, June 2).
--On May 19, an unnamed Douglas County deputy shot and wounded Henry McQuatters, 55, in Idleyld Park when it was reported he fired bullets from a gun after threatening people with a brick (Douglas County Sheriff's Office, May 20).
--On May 1, Salem Corporal Adam Waite of the Salem Police SWAT Team shot and wounded Andrew Kjostad, 34, who was firing bullets toward law enforcement the previous day. They say Kjostad had a gun (Oregonian, May 3).
--On April 29, just five days after a Clackamas Deputy killed Jack Watson, Clackamas Deputy Derek Huskisson shot and killed Carlos Sanchez, 23, in Happy Valley after he says Sanchez shot at him (Clackamas Review, May 5).
In addition, a car chase by Gresham Police on June 25 led to the death of an uninvolved person when the suspect rammed into their car (Oregonlive, June 29).