Site Navigation
Home
About us
People's Police Report
Shootings & deaths
Cool links
Other Information
Contact info
Donate
Commission Readies New Oversight Board
Plan for Council Approval
by Philip C.
The Police Accountability Commission (PAC) is nearing the end of its work. Since spring, the PAC has been working on a transition plan from the old police oversight and advisory system to the new system and also developing a framework for relationships between the new oversight system and various city, county, state, and federal agencies. In addition, the PAC, with public input, chose names for the new board and new city bureau: The Community Board for Police Accountability and the Office of Community-based Police Accountability. At two meetings in May, City Council members expressed concerns about the viability of the new system, in part focusing on items embedded in the City Charter by the 2020 ballot measure requiring the change.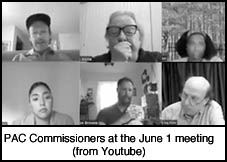 The City has hired legal counsel and consultants to review the PAC documents and work to integrate them within city code. Once finished, the PAC will review the city code proposals and make any necessary changes. By September 1st, the PAC will submit their recommendations to City Council. Once City Council makes any changes and approves the changes to city code for the new oversight system, the DOJ will have a chance to review the recommendations. If all goes well, we may have a completely new, empowered police oversight system headed by community members fully functioning in 2025.
During a presentation of the PAC's Q1 report on May 17, Council members asked the PAC, for instance, why no police are allowed on the new Board, why the Board gets the equivalent of 5% of the Police Bureau Budget, and how the Board plans to compel officer testimony. All of these items are in Charter Section 2-10 as passed by the voters. At a subsequent work session on May 23, Dr. LeRoy Haynes, Jr., Chair of the Albina Ministerial Alliance Coalition for Justice and Police Reform, reminded Council that the struggle for a strong oversight system began long before the uprisings of 2020. In mid-July, Commissioners Rene Gonzalez and Dan Ryan tried to propose changes to the Charter Reform Amendment passed by voters in 2022 revising Portland's overall system of government. Gonzalez also mentioned that he is eyeing changes to the Police Oversight Board Charter Amendment that was overwhelmingly passed by 82% of voters in 2020 (Willamette Week, July 19). At its July 27 meeting, the PAC drafted a letter requesting Council leave the Charter as-is until the Board has a chance to function.
For more information go to portland.gov/police-accountability.

September, 2023
Also in PPR #90
• PPB Officers Kill Again After Short Break
• OR Law Enforcement Deadly Force Down a Bit
• DOJ May Agree to Court Monitor for Portland
• $150K+ More Paid for Police Protest Violence
• "Restorative Justice": Indictment Dropped for Brutal Cop
• Oversight Board Plan Ready for Approval
• Independent Police Review Investigations Lag
• 2023 Review Board Report #1: No Deadly Force
• City Council Criminalizes Camping
• City Audit: PPB Spying Lacks Proper Rules
• State Discipline Commission Prints Guide
• Better Force Data Promised to Training Council
• More Copwatch Comments on Bureau Policies
• Quick Flashes PPR #90:
• PPB Annual Report Missing Deadly Force, Race
• Traffic Stop Data: Lies, Damn Lies and Statistics
• Immigrants Seeking Safety Denied Special Visas
• Updates PPR #90:
• Police Ass'n Compromises On Body Cam Pre-Review
• Commanders Fix Oversight, Officers Get 43 New Positions
• Police Drones Now Cruising Portland Skies
• Rapping Back #90