People's Police Report #90 - September 2023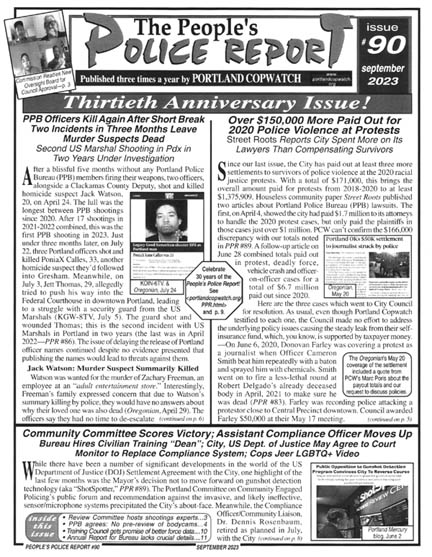 Thirtieth Anniversary Issue!
See a note to our readers after 30 years below.
Table of Contents
(With graphics 9/23! Note: you can also see a pdf version of the newsletter with graphics)

Dear People's Police Report readers

It's too bad that so much of what we share is negative news about the Portland Police.
If they would stop behaving inappropriately, maybe we'd be able to end publication.

As it happens a lot has changed since we began publishing this newsletter in 1993,
but also, amazingly and sadly, very little has changed.

Nobody has given as much in-depth and ongoing attention to police accountability issues
in Portland as we have.

Please consider donating to PCW to help us keep producing these important newsletters!

Thanks to all who support us and who've contributed time, patience and energy
to the PPR in these thirty years.

See all 89 previous covers at portlandcopwatch.org/PPRcovers.html.
---
People's Police Report Index Page
---