Over $150,000 More Paid Out
for 2020 Police Violence at Protests
Street Roots Reports City Spent More on Its Lawyers
Than Compensating Survivors
Since our last issue, the City has paid out at least three more settlements to survivors of police violence at the 2020 racial justice protests. With a total of $171,000, this brings the overall amount paid for protests from 2018-2020 to at least $1,375,909. Houseless community paper Street Roots published two articles about Portland Police Bureau (PPB) lawsuits. The first, on April 4, showed the city had paid $1.7 million to its attorneys to handle the 2020 protest cases, but only paid the plaintiffs in those cases just over $1 million. PCW can't confirm the $166,000 discrepancy with our totals noted in PPR #89. A follow-up article on June 28 combined totals paid out in protest, deadly force, vehicle crash and officer-on-officer cases for a total of $6.7 million paid out since 2020.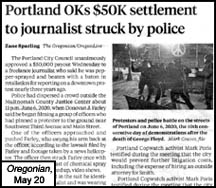 Here are the three cases which went to City Council for resolution. As usual, even though Portland Copwatch testified to each one, the Council made no effort to address the underlying policy issues causing the steady leak from their self-insurance fund, which, you know, is supported by taxpayer money.
--On June 6, 2020, Donovan Farley was covering a protest as a journalist when Officer Cameron Smith beat him repeatedly with a baton and sprayed him with chemicals. Smith went on to fire a less-lethal round at Robert Delgado's already deceased body in April, 2021 to make sure he was dead (PPR #83). Farley was recording police attacking a protestor close to Central Precinct downtown. Council awarded Farley $50,000 at their May 17 meeting.
---

The Oregonian's May 20 coverage of the settlement included a quote from PCW's Marc Poris about the payout totals and our request to discuss policies.

---
--On August 23, 2020, Heather-Lynne Van Wilde, a transgender, disabled US veteran, was similarly covering a protest action when an officer moved her walker away from her, causing her to fall to the sidewalk and sustain injuries. Van Wilde had previously written to the City encouraging them to take care to accommodate people with disabilities, and pointed out in a letter to Council that Judge Michael Simon issued an order on July 16, 2020 prohibiting Portland officers from attacking the media. While the officers responsible are not named, the City realized they could lose in court so decided to pay Van Wilde $26,000 at their May 31 meeting.
--On August 15, 2020, Logan Colwell was injured during an "encounter" with PPB Officer Nicholas Bianchini. Using his arms and a weapon (either a baton or a "less lethal" launcher), Bianchini pushed Colwell down, resulting in a broken knee. Bianchini was one of two cops who fired less-lethal rounds at Lane Martin, causing him to drop an axe he was holding, in a confrontation that ended with Martin being shot and killed by another officer in 2021 (PPR #80). Without comment, City Council awarded Colwell $95,000 at its July 26 meeting.
Tracking these incidents, PCW has noticed that of 19 closed lawsuits about the 2020 protests, five were from incidents in a four day stretch from June 4-7, and 6 more were from an 11 day period in August (14th-24th). This means there is likely a lot more money pending disbursement as the daily protests were met with daily brutality (PPRs #81-82).
---

REPORT FINDS FAULTY TACTICS AT 2020 PROTESTS

On August 10, the long-awaited report from Independent Monitor, LLC about the brutal crowd control tactics used by PPB in 2020 was released. The report found an over-reliance on chemical and projectile weaponry, poor communication of "rules of engagement" and inadequate supervision. Unfortunately, they encourage the City to video-record protests (in violation of state law) and to hold "citizens academies" to teach the community about the crowd control training (Oregonlive, August 10).

---
Using "Restorative Justice," Indictment Dropped Against Brutal Cop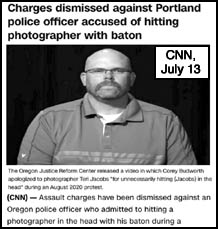 On July 11, Officer Corey Budworth's insincere sounding public apology for hitting journalist Teri Jacobs in the head was released to the public. Budworth was allowed to make the recorded apology as part of a deal to drop the criminal charges filed against him in 2020, which led to other members of the Bureau's Rapid Response Team quitting their volunteer posts doing crowd control (PPR #84).
In an interview with the Huffington Post (July 14), Jacobs made it clear that she agreed to use the process of "restorative justice" only if Budworth included particular topics in his apology. These included a statement about how his actions affected more people than just Ms. Jacobs. We'll see if the District Attorney offers this option to community members facing charges in the future. For now, the only officer criminally convicted of on-duty use of force in the last 50+ years is retired Officer Scott Groshong, who ran into a person with his patrol car in 2020 (PPR #87). Speculation has it that the Budworth deal was made to avoid further unrest by other Portland cops. Readers may remember that Jacobs was awarded $50,000 plus $11,000 in legal fees in 2022 (PPR #84).
Back to top