Site Navigation
Home
About us
People's Police Report
Shootings & deaths
Cool links
Other Information
Contact info
Donate
Bureau Slows Down on Policy Reviews;
Houseless Sweeps Most Relevant Issue in Three Months
Policies ("Directives") posted by the Police Bureau for public comment have become more sporadic and less meaningful. Between the end of August and the end of November, only eight Directives were up for review, and due to having already commented or not having anything to add, Portland Copwatch (PCW) only commented on four of them. The second round of comments on the policy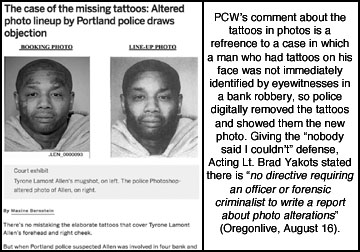 around the Joint Terrorism Task Force consisted only of re-submitting suggestions PCW made earlier, since the Bureau fixed the main problem we found around following state law (see JTTF article). Our comments on the "Personal Appearance" Directive (1110.00) supported what were clearly multiple comments from officers who complained about having to cut their hair short, as well as our thanking the Bureau for getting rid of their old-fashioned ideas of separating grooming standards by gender. For the Directive on "Eyewitness Identification" we made one comment: to disallow the use of digital editing to add or remove items such as tattoos on suspect photos used for lineups. This left the policy on houseless camp sweeps as the most relevant and most concerning Directive we reviewed.
Perhaps it is a good illustration of the City's attitude that the "Established Campsites on Public Property" Directive is now called "Managing Public Spaces." We wrote, "Since the substance of the policy seems aimed at people living on the streets, and not how Portland Police patrol parks, and the major actions addressed involve throwing out people's belongings, the new title seems more like a whitewash than an improvement." Generally speaking, nothing was done to better define what personal property is "of value," the specifics of how much time has to be given before a sweep can happen (which is 48 hours following the City taking on sweeps on Oregon Dept. of Transportation property-- see tinyurl.com/odotsweep) have been removed, and there's no sense that the private companies who do most of the "cleaning" are going to be held responsible to follow court orders on how to conduct sweeps.
---
PCW's comment about the tattoos in photos is a reference to a case in which a man who had tattoos on his face was not immediately identified by eyewitnesses in a bank robbery, so police digitally removed the tattoos and showed them the new photo. Giving the "nobody said I couldn't" defense, Acting Lt. Brad Yakots stated there is "no directive requiring an officer or forensic criminalist to write a report about photo alterations" (Oregonlive, August 16).

January, 2020
Also in PPR #79
• Campaign for Accountable "Union" Contract
• Compliance Officer: PPB Doesn't Have to Change
• Portland Police Shoot Another Man in Crisis
• Oregon: 2 Years of 30+ Shootings Over Average of 26
• Info Supports Staying Out of Terrorism Task Force
• Review Committee Accepts, Challenges Findings
• Police Review Board: Bait & Switch Discipline
• Will New Programs Help Unhoused Community?
• Apparent Racial Profiling at Climate Protest
• Chief Tells Training Council: Census Data No Good
• Legal Briefs: OR Supremes Throw Out Fishing Expeditions
• Stop Data Reports Paint Differing Pictures
• PPB Slows Down Policy Reviews
• Rapping Back #79