Site Navigation
Home
About us
People's Police Report
Shootings & deaths
Cool links
Other Information
Contact info
Donate
Police Under Scrutiny for Apparent Racial
Profiling Arrest at Climate Protest
Updates on Previous Protest Clampdowns and Bureau Texting
Scandal Show City Still Doesn't "Get It"
On September 20, thousands of Portlanders led mostly by student activists took to the streets to take part in the "Climate Strike," a worldwide series of protests against climate change. Portland Police faced well-deserved criticism for singling out one of the only African American teens in the crowd for arrest, throwing that teen and a white ally to the ground in the process. Meanwhile, the fallout of the August 17 anti-fascist vs. alt-right protest (PPR #78) has continued as the City-- backed by unquestioning media outlets and the police "union"-- claimed their use of 700 officers to "control" roughly 1400 demonstrators was a blueprint for future actions. Cue the song Surf City ("Two girls for every boy") but replace "girls" with "protestors" and "boy" with "cop." In September, Lt. Jeff Niiya was cleared of wrongdoing for his overly chummy texts with alt-right Patriot Prayer leader Joey Gibson (PPR #77), which included Niiya warning Gibson of counter- protestors, congratulating him on running for US Senate, and warning Gibson to keep his ally "Tiny" Toese from the protest so cops wouldn't arrest him on a warrant. Toese was eventually arrested in early October after fleeing the mainland for his original home in American Somoa and being detained by US Marshals (Oregonian, October 6). Some of these developments led Portland Copwatch to write to City Council saying they still don't understand the problems with the text scandal, including how information was collected on people for their political affiliations rather than for any suspected crimes.
---
The two teens arrested at Climate Strike will not face charges, but may have to enter a diversion program which could include discussing their behavior with Portland officers (Oregonian, October 12).
---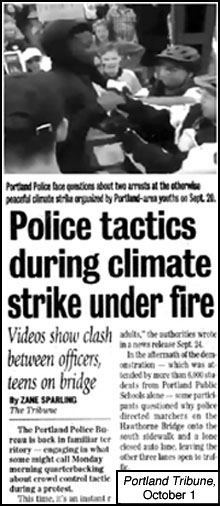 While the police also arrested Gibson for his part in provoking violence outside the Cider Riot establishment on May Day (Gibson pleaded not guilty), they also continued to focus their arrests both at and after street protests on leftists. The African American teen picked out at the Climate Strike had allegedly been sticking a protest sign out in traffic on the Hawthorne bridge a considerable time prior to the cops moving in to arrest him, when he was off the bridge and in a crowd. The video of the officers moving through a mostly white crowd to get this one person led to accusations of racial profiling (also see article section: Crowd Control Work Group ). It's notable the police did not shut down traffic on the bridge for the event, even though there were roughly 20,000 people trying to cross from downtown to the east side versus on August 17, when the bridge was closed with less than 1500 protestors present. On and after August 17, most arrests made appeared to have been of anti-fascists, including one woman who revved her motorcycle engine at the "opposing side" and another who spit on the street near officers. Afterward, progressive activist Antonio Zamora was arrested in a house raid for his alleged part in crowding a bus of alt-right protestors who tried attacking the Antifa side with a hammer, only to have it taken away and thrown back into the bus. And, one protestor who threw one milk shake at four alt-righers-- described as victims-- was sentenced to 50 hours of community service for the crime of harassment (Oregonian, October 30).
As for Niiya, the investigation into his actions at least led to the admission he was not specifically trained to communicate with protest organizers, prompting Chief Outlaw to promise better training for future liaisons.
In other developments, three people who were harmed at the August 4, 2018 demonstration (PPR #75) sued the police in October for using excessive force and causing injuries, including one man with wounds to his arm, a woman tackled for not moving fast enough, and the man who was hit in the back of the head with a police "flash-bang" (Portland Tribune, October 17). The woman who was also hit with a flash-bang and injured that day filed suit in August (Tribune, August 8).
In PPR #78, we mentioned briefly Chief Outlaw implied Portland asked for help from the Oregon National Guard for backup at the August 17 protest. News broke in late October that Mayor Ted Wheeler actually made that request, and found out that Governor Kate Brown denied it via a memo that went to the FBI two days before the event (OPB, October 29).

January, 2020
Also in PPR #79
• Campaign for Accountable "Union" Contract
• Compliance Officer: PPB Doesn't Have to Change
• Portland Police Shoot Another Man in Crisis
• Oregon: 2 Years of 30+ Shootings Over Average of 26
• Info Supports Staying Out of Terrorism Task Force
• Review Committee Accepts, Challenges Findings
• Police Review Board: Bait & Switch Discipline
• Will New Programs Help Unhoused Community?
• Apparent Racial Profiling at Climate Protest
• Chief Tells Training Council: Census Data No Good
• Legal Briefs: OR Supremes Throw Out Fishing Expeditions
• Stop Data Reports Paint Differing Pictures
• PPB Slows Down Policy Reviews
• Rapping Back #79