Citizen Review Committee Defers to Cops on Force, Suggests Misconduct in Stolen Car Case
New Directors of Review System Meet with Portland Copwatch;
CRC Gets Trained; Crowd Group Makes the News
The Citizen Review Committee (CRC), Portland's version of a civilian review board, heard two appeals of misconduct cases in the last several months. One case involved a man in mental health crisis who appears to have been injured by police, but CRC supported the Bureau's findings of no wrongdoing. In the other, they found an officer violated policy by failing to help a woman trying to report a stolen car. Most of their November meeting was taken up by a presentation on what it means to be a "public official," a training which seemed to leave most members more confused rather than feeling more confident. The new directors of the "Independent" Police Review (IPR) met with members of Portland Copwatch twice to get up to speed on the history of the system, in part because the three people making up IPR's management all quit at once (PPR #78). Meanwhile, the CRC's Crowd Control Work Group continues to meet, prompting a TV news report in October when they discussed racially charged arrests at a recent protest action.
Case #2019-x-0002:* African American Man in Crisis Roughed Up By Officers
CRC heard the case of an African American man who said three officers used excessive force and failed to acknowledge him telling them he was injured (#2019-x-0001). A person who witnessed the incident filed the original complaint, and the injured man filed the appeal; however, he could not be reached directly or through an attorney to appear at the hearing. The Appellant was ejected from the downtown Safeway for flushing the toilet repeatedly, then police followed him as he moved from the street to a retaining wall outside the Art Museum. He tried scaling the wall but fell to the sidewalk, apparently injured. Officers "determined he was a danger to himself," but did not handle him as an unarmed person in mental health crisis. Rather than leave him alone and wait for medical aid, the officers handcuffed the Appellant, searched him, found "drug paraphernalia," then diagnosed that he was experiencing "Excited Delirium," a syndrome not established in medical science and a term often used to explain why people die in police custody after they have been restrained and/or hit with Tasers.
The cops then tried to put the man-- who they thought was experiencing a medical condition-- into their patrol car, and he allegedly ran up the side of the car. They struggled with him on the sidewalk, pinning him to the ground and putting a "hobble" on his legs. Eventually EMTs arrived and he was taken to the hospital. The witness said the officers were not listening to the Appellant's claims of being injured. The witness took a short video while concealed behind a door in the museum. Central Precinct Commander Mike Krantz, who was there to defend the findings which exonerated all three officers on both allegations, showed both that video-- which is not long enough to get a full sense of the discussion between the cops and the Appellant-- and a security video with no audio from the Museum. On the witness video, the Appellant can be heard saying something about pain in his neck. Overall, Krantz was able to present the police narrative because the Appellant and witness were both not present at the meeting, and there was nobody to officially push back on his story. Three officers attended but did not say anything; it is likely these were officers A, B and C.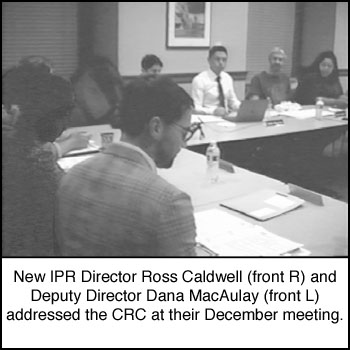 During public testimony, Portland Copwatch (PCW)'s Dan Handelman challenged Krantz for telling CRC the man was experiencing "Excited Delirium." That night, Krantz sent PCW an email having found the term mentioned in one medical publication via an internet search as if to prove it was reasonable for the officers to diagnose this syndrome. PCW has seen a follow up statement from the Public Information Officer which says the state Department of Public Safety Standards and Training now uses the term "agitated chaotic event."
Additionally, the case summary says "the [Internal Affairs] investigator showed Officer A a photo of Appellant with a scrape or bruise on his face and Officer A was not sure if the [injury] had been there before officers arrested Appellant or if it had been caused by officer use of force." Thus, the CRC could at least have proposed to change the findings about the officers' use of force to insufficient evidence (known in Portland as "Not Sustained"). Only five CRC members were present, and they voted unanimously to affirm all of the Bureau's findings.
Case #2019-x-0003 Woman Says Police Fail to Help with Stolen Car
A woman whose car was stolen before she received the full proper title complained that an officer refused to take a report, ending up costing her $1800 to recover it from impound. At the December hearing on this case (#2019-x-0003), Appeals Process Advisor TJ Browning noted the woman had a receipt from the DMV showing the title transfer was underway. Commander Tashia Hager argued the Directive's reference to the ownership change being "in process" meant that the paper in question wasn't sufficient, because anyone could go to the DMV and create a fake application showing car ownership. Rather than succumb to this cynical take-- that it is ok for officers to assume the civilian is lying (instead of, say, calling the registered owner to confirm the sale), CRC voted 4-3 to suggest a "Sustained" finding of misconduct. The three other members had suggested an insufficient evidence with debriefing finding. A second allegation referring to a "missing vehicle report" was affirmed unanimously as "Unfounded" since the police do not issue such reports.
IPR Directors Seek Body Cameras
The new IPR Director Ross Caldwell (PPR #78) and his Deputy Director Dana Walton- Macaulay, previously a dean adjudicating complaints at Portland State University, sat down with members of Portland Copwatch in September. Among other things, we discussed the history of PCW and the development of IPR after the Portland Internal Investigations Auditing Committee was retired in 2001 (PPR #24). PCW also expressed concerns about problems with how IPR relates to the community-- and to our group, such as having stopped inviting the public to observe CRC trainings several years ago, shutting PCW out of a reception for a newly-appointed CRC member in City Hall, and the Auditor (whose office houses IPR/CRC) and the City Attorney no longer showing up at CRC meetings. Director Caldwell was interested in pushing for body cameras, thinking this might improve misconduct investigations. PCW relayed concerns that the cameras point the wrong way (at community members, not police), and that body camera footage is more often used to prosecute civilians for crimes than to hold officers accountable. However, PCW's official stance is still neutral on the devices. At a second meeting in November, PCW talked about CRC's history, including various policy recommendations they used to make which have now trickled to a halt.
---
The Compliance Officer/Community Liaison (COCL)'s October report compliments IPR's ability to complete investigations in a 180-day timeline laid out in the US Department of Justice Settlement Agreement going from a 50% compliance rate to nearly 90% over the past year. While some improvements may be due to their standardizing and streamlining their internal process, the COCL ignores the fact that a large chunk of cases IPR previously might have investigated are now being handled as "Supervisory Investigations." Since the end of 2018, the overall number of IPR investigations per quarter dropped over 60%-- from 11 to 4. In other words, of course they are getting more cases investigated faster, as they have less than half the caseload they once did.
---
Other Info from CRC Meetings
The presenter at the November meeting from the Office of Community and Civic Life spent roughly two hours discussing diversity issues and how to follow Oregon's Public Meetings Laws. The presenter admitted she was not an expert but was asked to go to all the advisory bodies in the city and relay this information. As a result, when CRC members asked, for instance, whether the three-person executive committee getting together every month to set the agenda might constitute a public meeting, the presenter told them it was. Chair Kristin Malone became deeply concerned about needing to send out notification for this task. Director Caldwell opined (and PCW agrees) this is an administrative function and not a decision making process which will lead to CRC making a recommendation. Besides which, CRC has old and new business on its agenda and can always modify the agenda based on the rest of the Committee's input during the meetings.
Surprisingly, CRC did not discuss the fact that the Chief undermined their recommendation to sustain a finding of untruthfulness against Sgt. Erin Smith for knowing it was untrue when he told a protestor they could be arrested for videotaping police (see Police Review Board article). They also did not discuss at either the September or November meeting the change made to City Code which requires CRC members to sit in on Police Review Board hearings involving Use of Force, not just Deadly Force cases as has been routine.
Crowd Control Work Group Discusses Racially Charged Arrest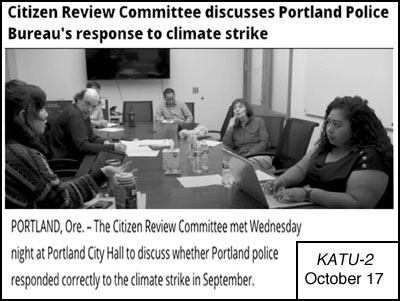 While they have not taken any concrete actions since holding their public forum on PPB policies back in April (PPR #77), the CRC's Crowd Control Work Group began meeting again in recent months to discuss gathering more information to develop recommendations. Their October meeting took place a few weeks after officers pushed through white students at the September 20 Climate Strike protest to arrest one African American teen and a white ally who defended him (see article on Protests). The controversy over that arrest drew two special attendees: A member of 350 PDX (one of the main groups who helped organize the Climate Strike) and KATU-2 TV news. The 350 PDX member, CRC Vice Chair Candace Avalos and PCW all raised concerns about how the police seemed to single out one of the few teens of color in a large crowd, including throwing the two teens arrested to the ground in a lane of moving traffic.
For more information see the IPR website https://portlandoregon.gov/IPR or call 503-823- 0196.
---
*- The print version of this listed this case as 2019-x-0001; PCW apologizes for the error.
The paperwork provided from IPR for this meeting had the numbering incorrect.
---