Site Navigation
Home
About us
People's Police Report
Shootings & deaths
Cool links
Other Information
Contact info
Donate
WILL NEW PROGRAMS HELP THE UNHOUSED COMMUNITY?
Two new programs focused on unhoused people have recently been in the news. A new city-county Navigation Team is visiting those who have been camping outside in order to get acquainted with them and help with resources, sometimes weeks in advance before they, and their belongings, are swept. Creating trusting relationships and determining needs are central to this program. An area in Southeast Portland near Johnson Creek and the Springwater Corridor has been receiving the most attention. It is also the area which generates numerous public complaints to the city's One Point of Contact. Community health workers from Central City Concern and outreach and housing staff from Transition Projects talk to people and work towards trying to get needs met, including permanent housing. On occasion, a mobile hygiene unit is deployed. Thus far, it appears the program is working well and confirms that when friendly and non-judgmental approaches are taken there is often success (Oregonian, November 3).
On November 21, Portland City Council approved $500,000 for a new Street Response program. Commissioner Jo Ann Hardesty led this project and was concerned about statistics showing 52% of all arrests in Portland were of houseless people (PPR #75). The pilot program will begin in the Lents area in 2020 and, instead of police responding to calls regarding houseless people, there will be a two person team dispatched made up of a Fire Bureau EMT and a mental health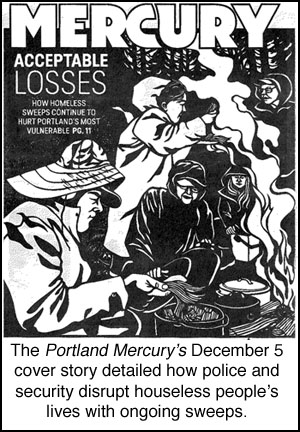 worker. Fire Chief Boone and Police Chief Outlaw were both present at the Council meeting and testified as to their support for this program. Kaia Sands, the Executive Director of Street Roots, whose editorial was the impetus for the program, gave a statement about how the current situation has been so harsh on those who are houseless. As is seldom the case, those most involved were part of the initial and ongoing process both in listening sessions and through surveys. These revealed eight findings, the top two of which were (1) that this program be separate from the police, and (2) that those responding not be armed with guns. While the program is a good step to keep police out of pushing people around, Portland Copwatch will wait and see whether the Fire Bureau is the proper place for this program. The Eugene system used as a basis is run by a non-profit, not a city department.
Rather than being supportive that supposedly "stretched thin" police officers will not be going out on calls which can be handled by the Response team, Police Association President Daryl Turner issued a negative spin, indicating it would not be a full solution to homelessness, and more honestly noting he feared future funds would be diverted from the police to these new first responders (Oregonian, November 22). On December 9, Turner appeared on OPB's Think Out Loud to push for his officers to continue to be first responders. He stated misleadingly that the Bureau's Behavioral Health response teams, made up of one officer and a Project Respond mental health professional, can go to calls "24/7." They actually only have one team per precinct, and only on weekdays.
Turner was present at a November 8 tour of the Wapato Jail by owner Jordan Schnitzer, who continues to hope the facility will be turned into a "wellness center" for homeless people. Schnitzer apparently wanted a gathering of neighbors who support the effort, with hopes of getting together funding for the project which Multnomah County has rejected. The event was advertised through neighborhood association channels. Turner is one of the main vocal supporters of putting houseless people in the former jail (also see "Rapping Back,"). In early December, Schnitzer brought federal housing officials to the site, but they made no commitment to help (OPB, December 3).

January, 2020
Also in PPR #79
• Campaign for Accountable "Union" Contract
• Compliance Officer: PPB Doesn't Have to Change
• Portland Police Shoot Another Man in Crisis
• Oregon: 2 Years of 30+ Shootings Over Average of 26
• Info Supports Staying Out of Terrorism Task Force
• Review Committee Accepts, Challenges Findings
• Police Review Board: Bait & Switch Discipline
• Will New Programs Help Unhoused Community?
• Apparent Racial Profiling at Climate Protest
• Chief Tells Training Council: Census Data No Good
• Legal Briefs: OR Supremes Throw Out Fishing Expeditions
• Stop Data Reports Paint Differing Pictures
• PPB Slows Down Policy Reviews
• Rapping Back #79