Police Deadly Force in Oregon: Over 30 Incidents Continues Over- Average Trend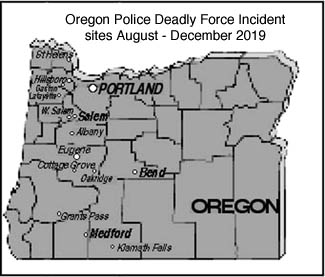 On September 30, Portland Copwatch (PCW) published a news release noting there had already been 26 deadly force incidents in Oregon in 2019. Prior to last year, when there were 37 shootings in the state,* the average had been 25 per year, but 2018 pushed that number up to 26. By mid- December 2019 there have been 34 incidents. This is of great concern as the national trend has been steady while Oregon's rate jumped 40% and appears to be staying there. Here are the thirteen officer-involved deadly force incidents outside Portland since our last issue was published:
--On November 30, Eugene Police officer Samuel Tytol shot and killed Elbirio Rodrigues, Jr., 40, when a traffic stop escalated into a physical fight (Eugene Register Guard, December 6).
--On November 29, Deschutes County Sheriff's Deputy Clint Baltzor shot and wounded Adam Gilliam, 25, near a Bend shopping mall after police rammed a vehicle Baltzor reportedly stole (KTVZ-21, December 5).
--On November 12, Klamath Falls Police Sergeant Maury Smith shot and wounded Robert Lee Faulkner, 34, after they "found Faulkner hidden in some brush, reportedly armed with a handgun" (KDRV-12, November 13 and Klamath Alerts, December 13).
--On October 23, Albany officers Emily Schiff and Gina Bell used Tasers to zap James F. Plymell III, 45, after he got into a fight with a "community service officer" while he was attending to his car which had broken down; Plymell died after the tasering (Albany Democrat Herald, December 17). According to PCW's records this is at least the 12th Taser-related death in Oregon since the weapons were introduced.
--On October 21, Hillsboro Officer Bobby Voth shot and killed Jason Livengood, 29, in the parking lot outside of a police station when Livengood allegedly refused to drop a gun (Oregonian, October 25).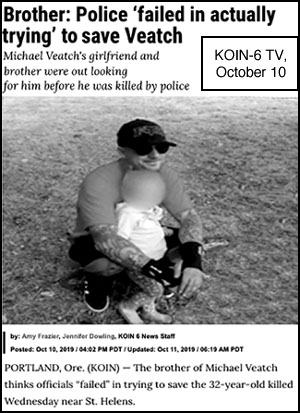 --On October 17, Oakridge Officer Steve Davidson shot and killed Marcus Phillip Hartsfield, 27, after he had cut his own throat and moved toward Davidson with a razor (KVAL-TV16, November 1).
--On October 9, St. Helens Police officer Elijah Merkwan used his patrol car to kill Michael Veatch, 32, after Veatch reportedly threatened someone with a gun, fired rounds at vehicles, sped away in a car and ran from that car when Merkwan approached. The Columbia County District Attorney found Merkwan was justified in running over Veatch (Oregonlive, December 3).
--On September 29, Allen Pitts died due to his interaction with unnamed Salem police at the "Best Little Roadhouse," including use of a Taser. Pitts was reportedly causing a disturbance and threatening people, apparently in a mental health crisis (Oregonlive, September 30 and Salem Statesman Journal, November 27). This was Taser-related death number 10 in Oregon.
--On September 27, unidentified Yamhill County Deputies fired one bullet at a male and female in a car in a cemetery in Lafayette, likely missing them; the Deputies say the car nearly hit one of them (KPTV-12, September 28).
--On September 22, Medford Police Corporal Joshua Schilder shot and wounded Steven Myers, 55, following a call that Myers was suicidal. Police claim he moved toward them with a knife. Simultaneous to the gunfire, two officers hit Myers with Tasers (Oregonlive, September 22 and KDRV-12, October 9).
--On September 18, Dallas Officer Darren Buchholz shot and killed Scott Gabriel Spangler, 43, at a Goodwill store in West Salem as police sought to arrest Spangler on narcotics charges. Interestingly, Buchholz had previously arrested Spangler after he shot and wounded himself while suicidal (Oregonlive, September 20).
--On September 14, Hillsboro Officer Jaime Williamson shot at Elliot Carr, 34, after Carr supposedly pulled out a gun during a struggle in a hotel hallway; the bullet did not hit Carr but officers injured him in the fight (KATU-2, September 20).
--On August 24, Lane County Sheriff's Sergeant Levi McKenny shot and killed Larry Leonard Lowry, Jr., 34, in Cottage Grove after Lowry allegedly "broke through the wall of a shed" and ran towards deputies with a large knife (Eugene Register Guard, September 4).
There was also another reported incident where an officer discharged his firearm, but it wasn't while on duty or intentional. Clackamas County Sergeant Chris Keyser accidentally fired a bullet from his gun while cleaning it in his garage on January 1, luckily not hitting anyone. He literally tried to cover up the shooting by pushing a garbage can in front of the hole from the bullet. He retired before he could be fired for lying to investigators (Oregonian, October 25).
PCW's research found two more 2018 incidents: Deschutes County Deputy Chris Jones shot and wounded Brandon Barrett, 33, on October 12 after Barrett drove his car away from Jones (Bend Bulletin, October 15, 2018); on August 7, Benton County Sgt. Ryan Moody fired two shots but did not hit Charles Wesley Praither IV (age unknown) near Philomath (Corvallis Gazette Times, September 11, 2018).
In national news, a study from Rutgers University showed that African American males are the most likely to be killed by police, at a rate 2.5 times higher than white men and boys, while Latino and Native American men had a rate about 1.4 times higher. Women are overall 20 times less likely than men to be killed by police (Los Angeles Times, August 18).
* -including two which PCW found info on recently -see Shootings article.
Back to text.