Police Review Board Report: Bait & Switch Discipline,
Sexual Misconduct, Ubiquitous DUII and PPB Influence
Sometime around September 23, the Portland Police released the first of a required twice-yearly set of Police Review Board (PRB) summary reports. The published info (which we will refer to here as "the PRB Report") included a stunning switcheroo by the Chief to avoid firing an officer, a few officers engaged in sexual harassment, and a high-ranking officer who drove drunk. There were also four reviews of deadly force incidents (see Other Shootings). The PRB Reports used to be published in January and July each year, but are now bunched up toward the end of the year. The new Report included 17 cases heard between December 2016 and April 2019. The reports continue to be ridiculously redacted-- in addition to officer names, the dates, locations, and genders of people involved are generally blacked out.
One of the most troubling cases involves what appears to be some administrative sleight-of-hand by the Chief. While Sgt. Erin Smith was found to have violated three separate policies when threatening to arrest activist Benjamin Kerensa in November 2016 (PPR #76), only one of those allegations was considered by the Board . The Citizen Review Committee (CRC) recommended changing the PRB's "Not Sustained" (insufficient evidence) recommendation to "Sustain" that Smith had lied when telling Kerensa he could not video-record police activity-- something which is protected by state law. Rather than find Smith violated the Truthfulness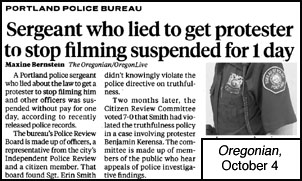 Directive in question, which would have led to an automatic firing, the Chief changed the finding to a "Performance Issue" and gave Smith one day off without pay. The other two findings-- one of which came from former PPB Captain Mike Crebs, the other of which the Chief also Sustained at the request of CRC-- had to do with Smith giving out false information and making a threat. Overall, the Chief's action undermines community trust (such as it is) in the system: It's bad enough when the finding gets changed, but in this case Chief Outlaw changed the allegation.
One unusually long summary report focuses on Officer Jimmy Harrison, Jr. taking car keys from a person he suspected had been driving drunk but not giving them a receipt or documenting the seizure. Harrison was given the minor discipline of "Command Counseling." The summary details the back and forth among Board members and seems to corroborate previous descriptions of PRB meetings including coercive input from Bureau members trying to dissuade dissent. Several questions are sidelined with the explanation that "officers do that all the time," not allowing the discussion to focus on (a) whether the behavior in question follows policy or training or (b) whether the behavior should be prohibited in the future.
An officer who gave an unwanted hug and kiss to another cop on duty in March 2016 was given two weeks off without pay for that allegation, and because he (presumably a male) also tested a Taser on himself in a public place with civilians present. Two other (presumably female) officers made allegations of unwanted passes, but the officer was "Exonerated" for those because one woman was allegedly in a consensual relationship with the offender and the other incident happened off duty.
Other sexual misconduct cases: (1) A supervisor who had a relationship with a subordinate for two years and failed to report it was given two days off without pay, and (2) an officer contacted a teenager-- apparently using the officer's personal social media account-- late at night. The summary states the "tone and content of the messages raise the perception of misconduct."
The DUII case involves Commander Steve Jones, who broke a telephone pole in June 2018 in a crash (PPR #75), destroying his police cruiser and luckily not hurting anyone. Jones resigned before being terminated per the Board's recommendation. On October 24, the Department of Public Safety, Standards and Training revoked Jones' certification for 10 years (Oregonian, October 25).
Also in the report:
--In another case from 2016, an officer who falsely claimed to have had his police car hit by a civilian's car was fired.
--Receiving a week off without pay were a supervisor who sang an inappropriate song with officers from other jurisdictions nearby, an officer who fouled up a Domestic Violence investigation, and an officer who ignored a former colleague's inability to pass a firearm test to get the other officer re- hired. This last officer retired before facing punishment. About the singing Supervisor, the Report reads "Employee sang the song '--blank--' during the --blank blank blank blank-- at --blank blank-- ." Portland Copwatch played "Police Review Board Mad Libs" and guessed: [The Lieutenant] sang the song [Camptown Races] during the [regional crowd control training] at [North Precinct]. We welcome any offer to tell us how many blanks we got correct.
--Like the supervisor who failed to report a relationship with a colleague, a cop who ignored a suspect's request to talk to a lawyer while the officer delivered "Miranda rights," received two days off without pay.
--Other than Sgt. Smith, two other officers were given one day off as punishment: the one who contacted juveniles late at night over social media-- who also failed to document a sexual assault, and an officer who used pepper spray inappropriately during a protest.
--Other than the four deadly force cases, the only incident which led to no disciplinary findings was an allegation of excessive force using less lethal weapons during a protest on February 20, 2017.
Overall, the Board considered 76 allegations and found 24 Sustained (one of which the Chief changed to Not Sustained), 33 Exonerated/In Policy, and 19 Not Sustained (one of which was changed to Exonerated, another which was Sustained by CRC and the Chief). This may be the lowest "Sustain" rate yet for a PRB report: 32%, which is still much higher than most misconduct investigations simply because most incidents are reported to PRB when a supervisor thinks the officers violated policy to begin with.
The report can be found at https://www.portlandoregon.gov/police/article/742497.
PCW's analysis is at http://www.portlandcopwatch.org /PRBanalysis0919.html.