Site Navigation
Home

About us
People's Police Report
Shootings & deaths
Cool links
Other Information
Contact info
Donate

Welcome to the Portland Copwatch Web Page
---
Portland Copwatch is a grassroots, volunteer organization
promoting police accountability through citizen action.
As part of Peace and Justice Works, PCW adheres to principles of non-violence.
Copwatch is a movement, not a franchise. Check with us to see if a copwatcher you encounter is with PCW.
EMAIL LIST: PCW sends out information, analysis and notices 3-5 times a week.
Contact us at copwatch @ portlandcopwatch.org if you want to be added!
---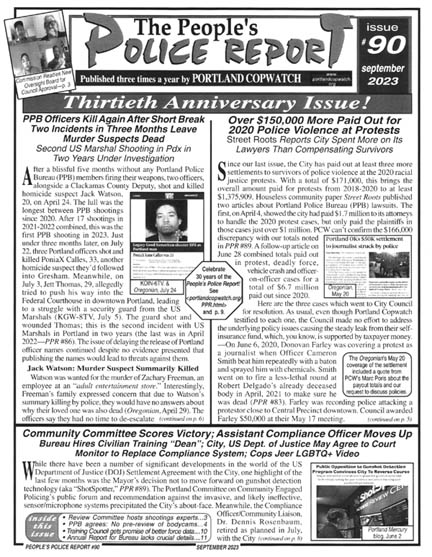 Newsletter
---
Shootings and Deaths in Custody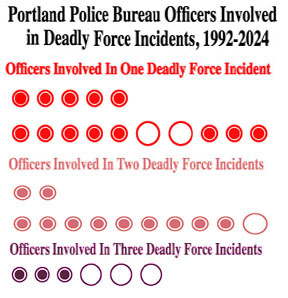 Back to top
---
Portland Copwatch Activities
New Oversight System 2023:
Read about the differences between the proposed new oversight board
and Portland's current system.
Portland City Council voted on a watered-down version of
the Police Accountability Commission's proposed changes
on November 15, 2023. Read more about how to contact Council
to express your feelings about their changes.
Download a printable fact sheet comparing the 2002-present and
PAC- proposed systems!

ABOUT THE CAMPAIGN TO END PORTLAND'S COOPERATION
WITH THE FBI'S TERRORISM TASK FORCE! (UPDATES Sept 2020)

On September 8, 2020, a new letter demanding that Portland
fully end cooperation with the Joint Terrorism Task Force (JTTF)
signed by 27 organizaions and two individuals was sent to City Council.

On January 4, 2021 PCW and other groups released a
"People's Report" on the Joint Terrorism Task Force
suggesting that Council reject the Bureau's formal report
unless it answers important questions.

This follows the November 8, 2017, letter signed by
23 organizations and a prominent Portland area survivor of unwarranted spying
was presented to Portland City Council asking to get the Portland Police out of
the Joint Terrorism Task Force (JTTF).

On February 13, 2019 City Council voted to pull the two officers out of the JTTF.

On May 8, 2019 Council adopted the second resolution which allows the PPB to work
with the JTTF on cases of terrorism "and/or threats to life including hate crimes."

A report released in January 2020 indicated the limited
contact with the FBI in 2019 did not revolve around terrorism.

October, 2020:
On October 9, 2020, 16 Oregon-based social justice organizations and
three prominent individuals sent a letter to Governor Kate Brown
asking her to end the state's cooperation with the FBI's Joint Terrorism Task Force.

September 2022: Oregon Governor Candidate Question
Four organizations sent a question to the candidates for Governor
and Oregon's political parties about removing the Oregon State Police
from the Joint Terorism Task Force.
To see the results to to:
https://portlandcopwatch.org/jttf_questionnaire0922.pdf

HELP PUSH FOR A FAIR POLICE "UNION" CONTRACT! UPDATED DEC. 2020
Portland Copwatch is part of a campaign for a
police contract that focuses on community concerns.
On December 10, 2020 a new letter to Council
signed by over 30 community groups was published
outlining important changes that need to be made to the contract.

This followed the 2019 letter to City Council released on Sept. 11, 2019.

Also read the 2019 companion letter focusing on items which should be negotiated
-- but should not be in the contract itself.

For more information on the campaign on the
Police Association Contract, click here.

Check out our report back on May Day 2017
Expressing deep concerns, including over 30 stills
and video of a copwatcher manhandled by police.
Read PCW's fact sheet on the Portland Police Association Contract (10/24/16)
Read more on our page about the police oversight system including:

Portland Copwatch's analysis of the "Standard of Review" for the
Citizen Review Committee (4/8/11-.pdf)

Information on US Dept of Justice Agreement
In 2012, the US DOJ found a "pattern and practice" of excessive force by the PPB.

The DOJ page on our site includes links to documents including:



NOW AVAILABLE FROM PORTLAND COPWATCH:
Copies of "Alien Boy: The Life and Death of James Chasse, Jr"
on DVD! (April 2014)

SOLD OUT! Jan. 2022
- but you can stream Alien Boy on Kanopy at your local library
Send $15 check or money order


and
Copies of "Arresting Power: Resisting Police
Violence in Portland, OR"
If you send $20 to (December 2015):
Portland Copwatch/Peace and Justice Works
PO Box 42456
Portland, OR, 97242
(Sorry, we can't accept payment for DVDs or other items via our web donation page)


Copwatch stickers available
Hey! Would you like to have your very own Portland Copwatch sticker? Decorate your bike, car, backpack, notebook, front porch, or whatever! Send us a self-addressed, stamped envelope.
We can send up to 8 4"x2.5" stickers for 1 stamp.
<!- -/b-->

-> Look here for announcements of upcoming
Orientations, Your Rights and the Police Seminars
and Copwatch Trainings
Contact us if you want us to provide a training for your organization!

End FBI Stings!
Mohamed Mohamud was sentenced to 30 years in prison after
being set up by the FBI in a sting operation similar to many
others around the nation. His January 2013 trial ended in a guilty verdict.
Download and read our background fact sheet on FBI stings
(last updated November 24, 2023)

Portland Copwatch participated in the Mayor's Racial Profiling Committee
from January, 2007 until it was disbanded in late 2008.
(We are monitoring the Office of Equity and Human Rights' efforts to continue the work.)

Back to top
---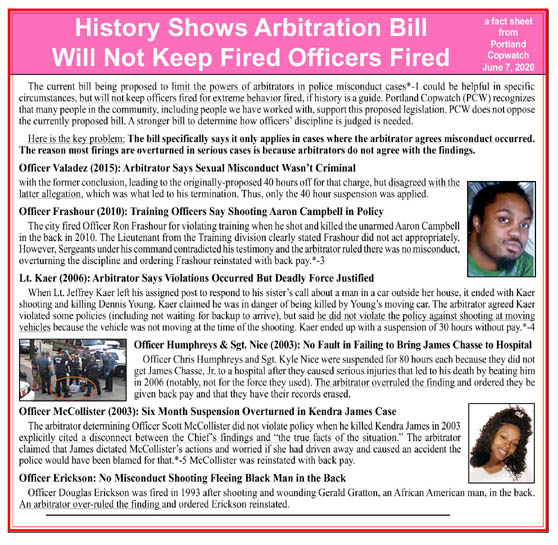 Analysis
---
Other Portland Police Accountability Stuff
Back to top
---
Reports
Back to top
---
Information
Back to top
On This Page
* denotes recent New info

Newsletter info
PPR #90 online 9/23*
Shootings & deaths*
Shootings list updated 7/23*
2010-2022 data on OR deadly force
Graphic on 233 officers using df
Analysis of 2023 shootings report
Portland CW Activities
Comparing proposed to current oversight system*
COCL downgrades review board 5/23
Analysis
Body Camera policies (posted 7/21)
Portland's Oversight System 7/20
Other info
5/23 Police Review Board report
6/21 IPR Annual report
Reports
Information
Top 25 settlements(updated 10/23)*
Archives
Contact info