<!IMG SRC="xxx.gif" ALIGN=left VSPACE=0 HSPACE=6 alt="[alt title]">

"Police Review Board" Considers Future, Prepares First Appeal in 18 Months
Three new members bring total to just two women on 9-member board

The Citizen Review Committee (CRC) spent considerable time in the last few months talking about changes to the structure of Portland's civilian oversight system (also see Oversight Changes, this issue.), helped the "Independent" Police Review Division (IPR) select new CRC members, and, for the first time since June, 2010, held a "Case File Review" to prepare for an appeal of a police misconduct case.

Ch-ch-ch-ch-Changes

CRC considered the many recommendations for changes to the IPR ordinance from their "PARC report" (PPR #51), "Structure Review report" (PPR #50-51), and the Police Oversight Stakeholder report (PPR #52), holding discussions at their September and November meetings on the subject.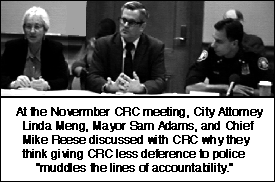 The longest part of their September meeting involved the CRC prioritizing from among the 41 stakeholder and 58+ CRC recommendations. CRC Chair Jamie Troy and Vice Chair Michael Bigham met four times with IPR Director Mary-Beth Baptista in August and September, indicating a few areas where the CRC disagrees with IPR-- significantly, about their standard of review when hearing appealed misconduct cases. However, they deferred repeatedly to IPR's assertions that changes to the ordinance are unnecessary because "things now aren't like they were before 2010 [when the ordinance was changed to strengthen some of IPR's powers] or 2008 [when Baptista became Director]."
Troy and Bigham presented a draft letter containing just nine priority items, which CRC ultimately supported (in a 7-0 vote) with the expectation of adding details to one. Their list included four items which "buck the system," getting thumbs-down reviews from Auditor Lavonne Griffin Valade (whose office includes the IPR) and Baptista (and not passed by City Council):
--Change the CRC's Standard of Review from "reasonable person" to "preponderance of the evidence" (more on this below);
--Fix the catch-22 that CRC can hear new evidence at hearings, but not compel testimony; while if a case then moves to City Council, Council can compel testimony, but not hear new evidence (this was the item the CRC never fleshed out in detail);
--Provide dedicated staff to CRC (despite having withheld staff support for CRC's public forum in March, 2010 [PPR #50], IPR claims they provide plenty of support);
--Make it easier for complainants to get publicly available records (the Auditor claims that state law makes such records proprietary, but doesn't consider creating a cross-bureau agreement to fix the problem of people needing to pay money, hire lawyers, or wade through bureaucracy to get their own police reports).
At the November meeting, Mayor Adams and Police Chief Mike Reese opened "the show" briefly summarizing their 44-page document addressing police policy issues and the Stakeholder report. The majority of the discussion involved Chair Troy pushing on the City, eventually represented by City Attorney Linda Meng, to change the standard of review to something less deferential. The "reasonable person" standard, Meng agreed, means CRC has to defer to the Bureau's original decision even if they disagree with it, while some appeals bodies consider cases "de novo" (from the start). The discussion ended with Meng seeming to say she would look into other options, but nothing was presented, and Meng is set to retire January 31. Adams and Reese spoke repeatedly of "unintended consequences" of changing the standard, and echoed their report's caution of "muddl[ing] lines of accountability."
The Auditor and IPR Director then presented their proposals for ordinance changes. Perhaps the most stunning part of the discussion was when Director Baptista apparently stated she disagrees with the City Attorney's reading that the ordinance as it then existed allowed the CRC to hear new evidence at appeals hearings. The fact that someone in a position of such power and authority can re-interpret the law to her own opinion shows that the ordinance needed to be fixed, yet all the parties involved seemed frightened to do so. While Council clarified the law, they restricted CRC from using new information raised at their hearings to decide whether the findings are supported by the evidence.
Case #2011-X-0001: Missing Photo of Man Tasered on the Back; Choke Hold Allegation Disappears
Also at the November meeting, CRC held its first "Case File Review" in 18 months, looking over the documents from appeal #2011-x-0001 to be sure they had all the information they needed to proceed to a hearing. The case involves Hung Minh Tran, a man who said Officer Jennifer Thompson (#42484) zapped him in the back with a Taser without warning and put him in a choke hold, while he was on his knees downtown at the Cheerful Tortoise restaurant in November, 2007. We reported on this incident in PPR #53 after Tran won over $81,000 in a settlement from the City in February, 2011.
While the major details will probably come forward in the actual appeal, what seems to be at issue are: whether Thompson fired the fish-hook probes from the electroshock weapon into Tran's back or, as she claimed, used the stun gun in "drive stun" mode to shock him in front; whether she appropriately reported the use of force; and whether she put him in a choke hold. Fortunately, Tran's lawyer Matthew McHenry was at the meeting. When Internal Affairs (IA) shrugged their shoulders about not having photos of Tran's injuries in the case file, McHenry offered to give the pictures over to the authorities the next day. It's amazing that there was a full civil rights trial, apparently some kind of arbitration hearing (in which the arbitrator ruled that Thompson was lying, according to Steve Duin's November 12 Oregonian column), and a supposedly thorough IA investigation invoked by IPR after the settlement--yet the photo was never obtained before it came to an appeal. (IA said it was a "random exhibit not maintained by the court.")
Perhaps equally as disturbing, because the complaint was drawn from the civil case, IPR and IA did not interview Tran at all, relying on his previous testimony, while Thompson did get interviewed, thereby giving her a chance to change her story.
Part of the complaint appeared to be that the officer used the Taser multiple times, but the police argue that Thompson fired only twice: First misfiring the weapon into her own holster, then zapping Tran. In the same breath with which IA claimed the Taser's downloaded data is "not reliable," they stated there were only two Taser uses, 21 seconds apart.
For reasons not discussed at the meeting, the choke hold allegation was not investigated. It was revealed that IPR Deputy Director Mike Hess had screened the case early on and dismissed it for being "minor in nature." While such shenanigans have been repeatedly denounced by Baptista with claims that her tenure is different from previous Directors Richard Rosenthal and Leslie Stevens, she admitted that this dismissal happened on her watch While it was just three months into her tenure, it still speaks to the need for IPR to encourage more contemporaneous review by CRC rather than relying on after-the-fact audits or the now extremely rare appeal.
Incidentally, the Bureau finding on whether Thompson filed an incomplete report was "Exonerated," meaning it was within policy-- perhaps the now-defunct "Unfounded" finding (that the facts do not support the allegation) would be more accurate. She was, however, found out of policy for the "negligent discharge" of the Taser, and her sergeant received a similar "Sustained" finding for failing to investigate the Taser use.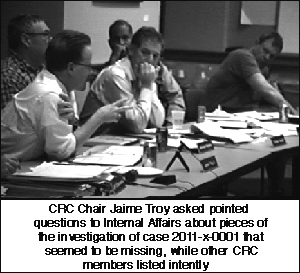 CRC voted 6-0 to request more investigation, with abstentions from CRC members Hank Miggins (who failed to read the case file), and Andre Pruitt. At the December meeting, IPR stated that the appellant, several witnesses, and at least one more officer were being interviewed, so the hearing will not take place until late January at the earliest.
Out with the Old, In with the New
Two long-standing members of the CRC, both of whom happen to be nominees by City Council members, decided to step down at the end of their terms in February 2012. Miggins, nominated by Commissioner Dan Saltzman, has been on the CRC since it began in late 2001 and seems ready to go. Commissioner Randy Leonard (who will not be seeking reelection in 2012), nominated former firefighter Loren Eriksson in early 2003 as part of the group replacing five members who quit CRC on principle (PPR #30). Eriksson showed welcome skepticism and fair-mindedness in his time on CRC. A third member, Ayoob Ramjan, decided to pull back from being a full CRC member and participate only in Work Group activities.
The three will be replaced by: David Deneke, a lawyer who sat as a citizen member of the previous version of the Police Review Board; K.A. Lalsingh, a project manager whose qualifications also include that she will be, adding to current member Rochelle Silver, the second female on the current CRC; and Rodney Paris, a former lawyer who conducts civil rights investigations for Oregon Health and Science University. With Steve Yarosh and Chair Troy, this will mean four of the nine members of CRC are current or former attorneys. The screening panel included Yarosh's wife and former CRC member Irma Valdez; Danette Haynes, the boss of current CRC member Pruitt; and Rob Kodirov of the Immigrant and Refugee Center of Oregon. So far as we know, Haynes and Kodirov have never attended CRC meetings.
Finally, IPR Assistant Director Pete Sandrock, who came on part time in 2004, will be retiring in January. While quiet and out of the limelight, except when he was acting Director for several months in early 2008 and for the CRC's September meeting while Baptista was out of town, Sandrock helped institute a lot of common sense policies that the first two Directors refused to consider. On the other hand, Sandrock also dismissed many complaints including ones related to civil litigation against police. Sixty-three people applied to be Sandrock's replacement. Baptista, the Auditor, and Ramjan will interview candidates.
Outreach Comments Continue to Educate
The community can learn a lot reading comments from the Outreach Coordinator included in the IPR Director's report. Comments from October include concerns from one African American youth who was questioned and not cited or warned by police, and others saying that they experience racial profiling and fear retaliation if they complain.
In November, some folks in North Portland urged that officers should live in the area for true community policing. In contrast, folks in SW Portland said they worried that people learning how to file complaints will lead to officers failing to carry out their duties for fear of having complaints filed against them, and so the residents will get less police service. Nothing says "accountability" like "don't complain against the police or else they won't do their jobs." One would hope that the outcome of more complaints would be that officers will stop committing acts of misconduct, bad policies will be remedied and inadequate training will be improved.
Also at IPR/CRC:
--CRC member Jeff Bissonnette and Baptista gave a report back from the National Association for Civilian Oversight on Law Enforcement (NACOLE) Conference in New Orleans at the October meeting. Baptista reported speaking on a panel about "discipline that sticks," which may be ironic if the Frashour case is reversed (see article, this issue). She did report, though, that several grassroots activists from the area attended the meeting.
--CRC approved new guidelines for the Appeals Process Advisor, based on the weaker APA model we discussed in PPR #54. While Bissonnette made some needed amendments, Chair Troy refused to accept a simple fix proposed by Portland Copwatch, seemingly because of the source of the comment rather than the substance.
--During CRC's November discussion about re-arranging the layout of their meeting rooms, it was revealed that some officers did not want to sit near the community members in the audience, saying they had heard "anti-police remarks" made during a hearing.
--At the December meeting, CRC asked to clarify why so many officers at the Occupy Portland demonstrations were not wearing identification, and what the rules are for officers are called in from out of town. PPB representatives are expected at the January meeting to explain.

Note: Training for the new CRC members will take place in public meetings on January 5 and 19 from 3-5 PM, and February 8 at 4:30 PM. The new member swearing-in will be at 3:30 PM on Feb 8.
For more info call IPR at 503-823-0146 or see portlandonline.com/auditor/ipr