Houseless Community Faces More Private Security, But Expanded Non-Police Response
Three major stories about the policing of Portland's houseless community arose recently. City Council approved an extension of downtown's "Clean and Safe" (C&S) program in September, and agreed to expand the Fire Bureau's Portland Street Response (PSR) program in November. Also, it was shown some neighborhoods helped drive more camp sweeps than others.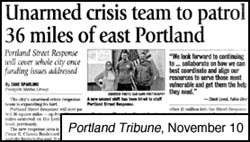 On September 29, Council approved a new $33 million 5-year contract with Downtown Clean & Safe (C&S). Clean & Safe is the non-profit managed mostly by Portland Business Alliance. C&S is tasked with security and cleaning of "enhanced service districts" and hires contractors to do the work. A recent city audit found many problems with C&S including lack of transparency, lack of oversight, and an opaque or non-existent complaint process. During Council testimony, many community members testified that C&S security were often rough with houseless people and lacked de-escalation skills. Special business taxes pay for C&S as well as four dedicated police officers.
The new contract includes a few changes. It requires security guards to hand out business cards, creates a complaint process, and establishes a mental health team. Commissioner Hardesty was the lone "No" vote asking, "Should people with more money be able to buy more access to justice?" (Oregonlive, September 27).
During the fall budget cycle (see Budget article in this issue), Council approved the PSR pilot project for city-wide expansion. The roll-out is expected in spring 2022. PSR responds to 911 and non-emergency calls that are non-life threatening and are related to mental health or houselessness. PSR started with weekday shifts in the Lents neighborhood, but has since expanded to 36 square miles in East and Southeast Portland and a Thursday-Sunday night shift. The spring 2022 expansion will create more PSR teams but will not yet be 24/7 coverage. It will still have restrictions such as not allowing PSR teams to intervene in suicide calls or interact with the public inside private residences. In May, the City Council voted against the city-wide expansion of PSR in the 2021-22 budget when Mayor Wheeler and Commissioners Mapps and Ryan said they wanted to wait until they saw a report on the PSR's effectiveness. Now that the 6-month report is out, with glowing reviews, Council included the city- wide expansion. While Council has also approved more funding and the hiring of more police, we have yet to see a report on the quality and effectiveness of the Portland Police to justify the expansion of the Police Bureau.
Meanwhile, the Oregonian revealed that 29% of complaints to the city's hotline came from just two neighborhoods, Laurelhurst and Foster-Powell, leading to targeted sweeps in those areas, though the city denied the volume of calls dictated the "clean-ups" (September 24).