Site Navigation
Home
About us
People's Police Report
Shootings & deaths
Cool links
Other Information
Contact info
Donate
Community Organizers Lay Groundwork For
Public Testimony on Terror Task Force
ACLU Lawsuit Confirms Anti-Spying Law Against
Police Collecting Info on Activists
When Portland City Council voted to withdraw its two officers from part-time work with the FBI's Joint Terrorism Task Force (JTTF) in 2019, they also put in place a requirement for annual reports about those "case-by-case" instances of cooperation (PPR #78). However, because Mayor Ted Wheeler previously decided Council would not take public testimony on Reports, the community has used alternative means to be heard. A new annual JTTF report is required to be produced and heard at Council by the end of January. Anticipating another shut-out, community organizers from five groups testified during three minute "Communications" slots in November, resulting in a victory. The Mayor agreed to open Reports back up for testimony. Meanwhile, the ACLU of Oregon won a lawsuit in September which found the police violated Oregon's anti- spying statute by livestreaming video during last year's racial justice protests.
At issue is ORS 181A.250, the law which says police cannot collect or maintain information on people's social, political or religious affiliations without reasonable suspicion of criminal conduct. This statute was cited by organizers who pushed for the City to get out of the JTTF (both in 2005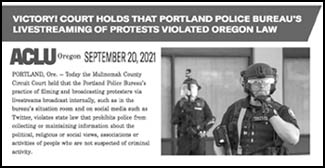 and 2019). The judge overseeing the lawsuit didn't buy the City's argument that livestreaming isn't "collecting information" the same way the old "Red Squad" once gathered paper files on "subversives." It was pointed out in court that anyone could have recorded the livestream. One plaintiff said they were not expecting to have the government post their protest activities and location for the whole world during the George Floyd uprising (Oregonian, September 20). In a related note, several groups involved in the JTTF campaign wrote a letter to Council in October asking that when the City creates its policy on body cameras (see the Budget article in this issue), it should explicitly refer to the statute and prohibit unlawful collection of data.
On November 17, representatives from the League of Women Voters, Portland Copwatch (PCW), Portland JACL (Japanese American Citizens League), Jewish Voice for Peace-Portland (JVP), and Portland Metro People's Coalition (PMPC) addressed aspects of the policy problems with the Mayor's testimony ban. The League's Debbie Aiona pointed to past use of Reports as examples of open and transparent government. Portland Copwatch member Dan Handelman noted how the contractors compiling the first Report on Portland Police Bureau shootings in 2003 cited PCW as a source for incidents the Bureau did not have in its records. The JACL's Marleen Wallingford discussed the importance of being able to speak about the PPB's annual JTTF reports, given the FBI's history of targeting vulnerable populations based on race and beliefs. Carol Landsman of JVP called for public participation, recalling her group was not allowed to talk about City contracts with implications in the Israeli occupation of Palestine. PMPC member Emory Mort spoke about the inadequacy of the Bureau-wide annual report (PPR #84) and how a year of uprisings led to no specific policy proposals in that report, partially because the public wasn't invited to counter the PPB's narrative at Council.
The Mayor made it clear he didn't think public input is necessary because Reports aren't binding policy. Commissioner Hardesty chimed in to say public input had been important to her as an activist on "the other side of the table." Commissioner Rubio agreed and Commissioner Ryan nodded his head. The Mayor, having already said he wasn't going to "die on this hill," changed his mind on the spot and declared all Reports will now include public testimony.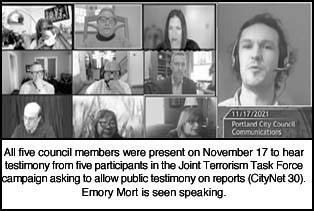 The effort grew out of the JTTF campaign, having held a news conference in front of empty chairs representing City Council in 2020 (PPR #80) and livestreaming commentary during the hearing in 2021 (PPR #83). Mayor Wheeler ended testimony after an October 18, 2017 Report on Portland's Sister Cities. There was no discussion, it just became policy. Slowly, the ability of Council to hear testimony on Reports was erased from the collective memory. The City Attorney's announcements at the start of Council meetings no longer referenced City Code, which allows the presiding officer to decide whether to hear from the public. The Council Clerk similarly removed Reports from the list of items the community is allowed to sign up for. Getting this right restored may seem like a small administrative issue, but it is important for transparency and the democratic process.

January, 2022
Also in PPR #85
• 2021 Portland Police Shootings Quadruple 2020
• State Deadly Force Incidents Taper Off in Second Half of 2021
• City, DOJ Hash Out Remedies for Failed Compliance
• Council Votes to "Re-fund the Police"
• Lawsuits: City Pays Out More for Protest Actions
• Citizen Committee Punts Whistleblower Case
• Commission to Design Oversight Board Meets
• Chief Overrides Review Board to Punish Two Cops
• Houseless Community Faces More Private Security
• Force Data Ignores Race at Training Council
• Sheriff's Last 12 Months Start w/Vax Card Scandal
• Organizers Set for Testimony on Terror Task Force
• Bureau Agrees with Copwatch on One Policy
• Updates PPR #85:
• Almost No Progress on Police Association Contract
• Suit: Former Police Assoc. Head Leaked Unconfirmed Info
• Revamped Gun Team Forming; Profiling Numbers Unchanged
• Rapping Back #85