2021 Portland Police Shootings
Quadruple 2020; 2 More Dead, 2 More Injured
Grand Juries Clear Cops in Killings of Two Men
in Mental Health Crisis and Other Updates
When the city's homicide tally made a record at 70 for one year, little attention was paid to the fact that 4% of those homicides were committed by Portland Police. In addition to the killings of Robert Delgado (PPR #83) and Michael Townsend (PPR #84), Officers Joshua Howery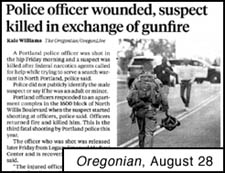 (#37867) and Jake Ramsey (#56803) shot and killed Alexander Tadros, 30, while assisting on a federal Drug Enforcement Administration (DEA) warrant. The shooting took place early on August 27. On September 12, Officers Ivan Alvarez (#60436) and Jonah Gellman (#60435) shot and wounded Andreas Julian Pavel Boinay, 27, when he crashed a stolen truck. On December 6, Officer John Hughes (#45063) shot and killed Brandon Keck, 30, on the freeway after an alleged series of carjackings. Days later, police shot and wounded Joshua Degerness, 39, after a traffic stop. Four dead and four wounded-- with eight shootings PPB's deadly force rate is 400% of what it was in 2020. Meanwhile, grand juries found no criminal wrongdoing in the deaths of Townsend or Delgado, despite the state Attorney General's office helping investigate the latter case. The September Police Review Board Report (see article in this issue) included scant details on the 2019 killing of Koben Henriksen (PPR #79) and no-hit June 2020 shooting at Grey Stockton (PPR #81), except to find the cops violated no rules.
Alexander Tadros: Police Say Gunshot Wounded Officer
The DEA was trying to search a residence on North Willis when they say Tadros threatened to shoot them. They called for backup from Portland's Special Emergency Reaction Team (SERT). Tadros then supposedly shot at officers, who initially used less-lethal weapons to try getting him out. After an officer standing behind a wall was hit by a bullet in the hip, the police returned live fire (Oregonian, August 28). Portland Copwatch has long raised questions about police interactions with other agencies, particularly federal ones who may not follow local standards. The DEA is doing their own investigation. Though two officers fired their weapons, only one bullet was responsible for Tadros' death (PPB news release, August 29).
Andreas Boinay: Second Car Chase for Same Suspect, Second Wounded Truck Thief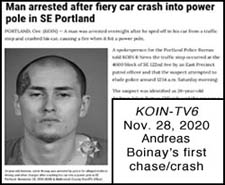 In November 2020, police chased Boinay in a stolen vehicle, which hit a utility pole and caused a fire (KOIN-6TV, November 28, 2020). What are the odds of the same person stealing two different vehicles, being chased by the police and taken into custody twice within a year? Notably, in 2021 Boinay allegedly stole a pickup truck, the same kind of vehicle police said Darren Carr stole before they shot and wounded him in May (PPR #84). The cops say Boinay drove the truck over the state line into Washington and back, finally getting trapped on NW Ash Street at a dead end in the early morning (Oregonlive, Sept. 12).
Joshua Degerness: Details Just Emerging on Man Wounded at Traffic Stop
The police say they tried to conduct a traffic stop, then chased Degerness in Lents late on December 11. Sgt. Norman Staples (#43528) and Officer Kenneth Jackson (#50090) shot Degerness and brought him into custody-- and the hospital-- after a standoff. Media described the car as "bullet- riddled" and say the police found a gun which Degerness admits to firing at them (Oregonlive, December 12 & 17).
---
In a separate incident on October 21, the PPB assisted the FBI when they tried to serve a warrant on Shane Travis, 43. After a standoff involving armored vehicles, PPB's SERT team found Travis had allegedly taken his own life with a gunshot (Oregonian, November 3).
---
Delgado and Townsend Cops Cleared
The community has long called to have someone other than the Multnomah County District Attorney lead grand juries to avoid the conflict which comes from their dependence on Portland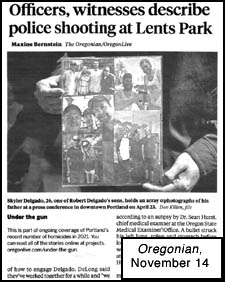 Police to prosecute day-to-day crimes. However, bringing in the state did not change the outcome in the Delgado case. There has not been an indictment for an officer killing a suspect in Portland in over 50 years. The state led an investigation in Klamath County in 2018 (PPR #76), which also led to no criminal charges. The DA released the transcripts, which indicate Officer Zachary Delong claims because he was behind a tree and 90 feet from Delgado, he was unable to see the gun Delgado was holding was a replica with an orange tip (Willamette Week, November 17). Nobody has brought up the TV interview Delong did about serving in the military and wanting to be a sniper.
The Townsend grand jury transcripts reveal the firefighters and officers who responded to the man's suicidal call were ready to leave because he would not let them search him for weapons so he could be transported to a hospital (Oregonlive, November 15). The story goes that as they were leaving, Officer Curtis Brown backed up but could not go any further when Townsend allegedly threatened him with a sharp object.
Both victims were known to have mental health issues. Officer Delong was trained as an Enhanced Crisis Intervention officer, to de-escalate such situations, but when Delgado responded negatively, the officer began shouting orders and cursing at him. Profanity, by the way, not only escalates situations but is also generally prohibited by PPB policy; it will be interesting to see if the administrative investigation leads to a misconduct finding on that issue. No special attention was given to either of these shootings by the US Department of Justice, despite their finding in 2012 that police use too much force against people in mental health crisis, which has led to a now nine- year process supposedly limiting such use of force (see the DOJ article in this issue).
No Policy Violations in Henriksen, Stockton Shootings
The Police Review Board (PRB), made up of four police personnel, a staff person from the "Independent" Police Review, one civilian from a pool of about 15 and a member of the Citizen Review Committee, unanimously found the officers who killed Koben Henriksen (Justin Raphael) and shot at but missed Grey Stockton (Laurent Bonczijk) violated no Bureau policies. One person suggested debriefing an officer who fired at Henriksen without announcing it was a "less lethal" round. Raphael claimed he tried to de-escalate the situation where Henriksen was holding two knives. The PRB didn't ask how that was possible as he fired his weapon seconds after arriving. When Stockton was found hiding in a closet with a fake gun, Bonczijk fired, then officers sent in a robot to be sure he wasn't a threat. For some reason, the PRB recommended the Bureau look into buying drones in response to the situation, which took place inside a home.
---
Portland Copwatch updated its infographic to include 215 officers involved in over 180 deadly force incidents since 1992. Notably, 18 officers involved in deadly force resigned or retired since a year ago. The improved site allows users to click on the dots representing each cop to get information about the incidents: portlandcopwatch.org/deadlyforcepdx.html.
---