Citizen Review Committee Punts on Ex-Cop Whistleblower Case, Presents Crowd Report to Council
"Independent" Police Review Steps Up Investigation Timelines
While the City awaits the implementation of a new, empowered oversight board (see the Commission article in this issue), Portland still relies on the "Independent" Police Review (IPR) in the Auditor's office to act as a check on officer misconduct. The Citizen Review Committee (CRC), which is housed in the IPR, normally meets every month and hears appeals on complaints. The CRC only met once between September and December. They heard no appeals, including that they did not hold a required "supplemental hearing" on the complaint by former Portland Police Sergeant Liani Reyna, a whistleblower who said she was discriminated against by Internal Affairs (PPR #82). They were not completely idle-- CRC's Crowd Control Work Group brought its report and recommendations to City Council on September 22, and the Policy and Outreach Work Group held a few more meetings to learn about body worn cameras. IPR published its Quarterly Reports for summer (August 17) and fall (November 10), indicating in the latter they are back in compliance with the required 180 day timeline to investigate complaints.
New Update on Case #2020-x-0002: Potential Discrimination Against Whistleblower Cop
As noted in PPR #84, IPR failed to meet the required US Department of Justice (DOJ) mandated 10 day timeline to complete further investigation ordered by CRC in October 2020 on Sgt. Reyna's complaint (#2020-x-0002). CRC wanted to know if there was more to be learned about why Internal Affairs (IA) did not investigate a previous complaint Reyna filed. Rather than 10 days, the IPR returned its finding there was no new evidence in August-- 10 months later, but CRC didn't discuss that information until October, a full year after the appeal hearing. (The last two month delay was because CRC cancelled its September meeting.)
CRC's protocol PSF 5.13 calls for CRC to hold a supplemental hearing when their request for more investigation is completed. Simple logic: they never voted on whether to agree with the Bureau's "Exonerated" finding on that allegation, and need to do so. Moreover, they also asked the Bureau to change two findings on allegations of discrimination from "Unfounded" to "Not Sustained" (insufficient evidence) with a debriefing. It has never been reported if those findings were changed. In the meantime, one of the two IA managers under scrutiny, Capt. Cliff Bacigalupi, retired. The other, Commander Jeff Bell--the subject of the unresolved allegation, had been assigned to the Detectives Division but recently was sent back to Professional Standards/IA. Despite Portland Copwatch raising this concern, because CRC cancelled its November and December meetings, no action has been taken or will be taken at least until January, 15 months after the first hearing.
Crowd Control Report "Accepted" By Council, Meaningful Change Eluded by Chief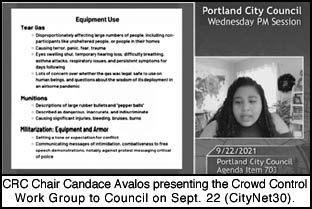 Also in PPR #84, we reported CRC had published a Report on Portland Police Crowd Control based on the events of 2020 and several forms of community feedback. Auditor Mary Hull Caballero has not put anything on the City Council agenda for months since she got into a dispute with Commissioner Jo Ann Hardesty over the future of IPR in the spring (PPR #83). Thus, CRC had their Report added to the agenda by the Mayor's office. While CRC made a good presentation and received some positive feedback, Commissioners Ryan and Mapps wondered what the Police Bureau thought about the Report. Perhaps they were reacting to the Portland Tribune article published the morning of the hearing with the headline "Report blames Portland police for protest violence."
Their question is not completely unwarranted. In the past, CRC has given their recommendations to the Bureau for comment and included any responses in the packet headed to Council. Chief Chuck Lovell replied two days after the Council hearing, mostly repeating worn-out platitudes about how police are "human beings who were subjected to almost nightly events where dangerous objects were thrown at them" and "it is impossible to discuss the future of crowd control events without talking about staffing." Needless to say, this was not the recommendation-by- recommendation response afforded to paid consultants like the OIR Group which reviews deadly force incidents.
Because it was a Report, the Council only acted to unanimously "accept" the CRC's complex document, months in the making. Portland Copwatch sent comments to Council in advance of the hearing, but our points about "kettling," officer identification, and showing up in riot gear were not discussed because at that time the Mayor continued his policy of not allowing public oral testimony during hearings on Reports (see the article in this issue). The Crowd Control Work Group continues to meet and is strategizing on how to get their recommendations implemented.
IPR Catching Up on Timeliness as Noted in Threadbare Reports
One of the sections where the City failed to maintain compliance with the US DOJ Settlement Agreement is paragraph 121, which calls for investigations to be completed in 180 days. The COCL's Second Quarter Report (see the DOJ article in this issue) noted that of cases initiated by the end of 2020, 180 days before the end of Q2, 50% of IPR and 19% of IA cases were over the deadline. IPR is required by Ordinance to put out quarterly reports, which at one point used to contain multiple points of information, such as types of complaints handled, case summaries and activities of the CRC. The most recent two Reports only included updates on timeliness and the basic facts about the six officer-involved shootings which took place from April to September (see the article in this issue). The Q3 Report announces IPR has caught up with its backlog, and no cases reported in Q2 went over 180 days. That could be in part because 180 days had not passed since the start of Q2 when Q3 ended.
While IPR is not going to be around for much more than 2-3 more years, it is the only agency which stands between the community and a world where police do all their investigations unsupervised by civilian eyes. Now that timeliness may be under control, we hope IPR will get back to reporting meaningful data, including the outcomes of the 120+ complaints they received from the 2020 protests. Their last update on those data was posted in April, and says 79 of them were investigated/being investigated. Portland Copwatch only knows of two cases where there were Sustained findings against officers (see the Police Review Board article in this issue); the IPR doesn't indicate on its website what findings are attached to protest cases.
Body Camera Discussions Not What CRC Expected?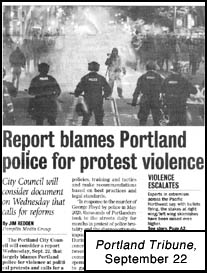 In our last issue we briefly mentioned CRC's Policy and Outreach Work Group was hearing presentations about body worn cameras for police. They heard from New Orleans over the summer. The September Work Group meeting was attended by a Captain from the Beaverton Police, which has had bodycams since 2017. When asked whether use of force and complaints against police went down after the copcams were implemented, as some studies suggest, the Captain said there was no noticeable change. This seemed a surprise to Work Group Chair Vadim Mozyrsky.
In October, a Gresham Police Captain attended and talked about their program, which began in early 2020. They also confirmed use of force was not down due to the cameras, stating newer studies don't show a link between the two issues. As a reminder, PCW has a neutral stance on the cameras since they might occasionally help hold officers accountable, but without proper regulation might be used to prosecute and spy on community members.
Also at IPR/CRC:
--At the October general meeting, the CRC heard from the League of Women Voters about their study on the oversight system, where they emphasized Council should change CRC's standard for reviewing complaints from the "reasonable person" (deferential to police) to "preponderance of the evidence" (where they can make up their own minds based on the evidence). This was also raised by CRC in July when Commissioner Hardesty attended their meeting (PPR #84).
--Rather than hold their public meeting in November, CRC members met in a quasi-retreat. In the past, such gatherings, which can't include discussion of CRC business without being open to the community, would start with private personal discussions and then allow the public to attend. It's not clear what the substance of this retreat was.