State Deadly Force Incidents Taper Off in Second Half
of 2021 Oregon Officers "Only" Involved
in Nine Incidents Since Late August
Faint praise to law enforcement in Oregon: they seem to have been involved in fewer deadly force incidents in the last four months on average than in the first eight months of the year. In People's Police Report #84, we reported there had been 25 shootings by week 32, or three every four weeks. Since then, we have only identified nine more incidents in the following 18 weeks, about two-thirds as many per week, bringing the total to 34. The largest number PCW has tracked in any year since 2010 was 37. A whopping four of the new incidents involved Portland Police (see the Shootings article in this issue). Here are the other five:
--On November 22, Gladstone Police Sgt. Travis Hill and Officer Clement Yau were taking Yvette Lares Garcia, 36, to jail when she asked them to let her stop by her house to check on her dogs. For some reason, they agreed, and she allegedly went into the home and came out shooting a handgun at them, hitting Hill in the leg. Both cops fired back, wounding Garcia (OPB, November 24).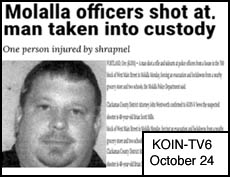 --On October 4, an unidentified Molalla Police officer fired their weapon but missed Brian Scott Mills when Mills shot multiple times from his house at officers responding to a medical call (KOIN-6TV, October 4).
--On September 27, Clackamas County Sheriff's Deputy Jansen Bento killed Nathan T. Honeycutt, 26, after deputies chased him in a truck and then on foot in Happy Valley. Honeycutt supposedly would not drop a gun when ordered to do so (Oregonlive, October 25).
--On September 6, Lane County Sheriff's Deputy Zachary LaFoca shot from an armored vehicle and killed Robert Gutierrez, 59, near Springfield, after responding to a domestic dispute call involving Gutierrez firing a gun (Eugene Register Guard, September 24).
--On September 1, Lincoln County Sheriff's Deputy Zachary Akin shot and wounded Kevan Rower, 59, when he was pointing a gun at houses (and, allegedly, police) in South Beach (Newport News Times, September 17).
Also, Clackamas County Deputies chased shoplifting suspect Anthony Lucero's car, leading Lucero to crash into and fatally injure Kris Nickelson, 54, on September 16. The Sheriff then put out a memo telling deputies not to initiate car chases over minor crimes (Oregonlive, September 22).