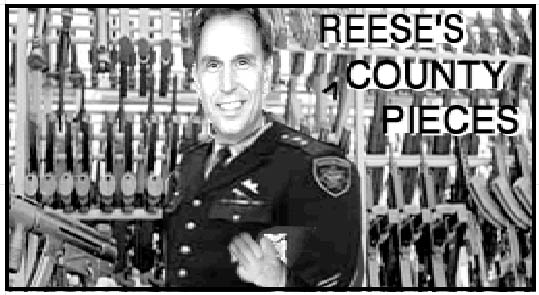 Sheriff Heads Into Last 12 Months
with COVID Vax Card Scandal, "Union" Uprising
MCSO: The Next Generation
As Sheriff (and former Portland Police Chief) Mike Reese heads into the last year of his term, a few people have declared their intention to fill his seat when he is time-limited out. Voters in May 2022 will have at least two candidates, Undersheriff Nicole Morrisey O'Donnell, and Captain Derrick Peterson to choose from in an election which usually is uncontested to head the Multnomah County Sheriff's Office (MCSO). They're each quoted in an online Portland Tribune article from September 13. Morrisey, the first woman appointed as Undersheriff, talks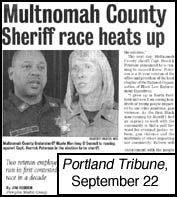 about involving the community to solve problems, and Peterson, head of the local National Organization of Black Law Enforcement Executives chapter, talks about criminal justice reform. PCW hopes to conduct a candidate questionnaire for the community to hear about these folks' positions on accountability issues. If you are not on our email list, check back to our website in mid-April for the results.
Deputy Steals Vaccination Cards, But Oregon Cops Get a Pass Anyway
In October, Corrections Deputy Robert Haney was charged with official misconduct and theft for allegedly taking at least two COVID vaccination cards which investigators found at the Deputy's home. An October 27 Portland Tribune article pointed out Haney did not have to fake a card for himself to stay employed, since a state statute says law enforcement officers are exempt from vaccine mandates. Sheriff Reese declared he was "very disappointed," noting "our profession's credibility is damaged when any member engages in illegal actions or misconduct." Haney cut a deal in December to admit to official misconduct but not theft, resign, give up his certification, serve six months probation, and pay a $500 fine (OPB, December 21).
Bargaining Unit Votes No Confidence in Reese's Hiring Czar
In late August, the Multnomah County Corrections Deputies Association took a vote of no confidence against the MCSO employee who is in charge of hiring new recruits. Complaining about 12 hour shifts, which includes mandated overtime, they say fellow officers are leaving due to what they claim is already low staffing numbers (Portland Tribune, September 8). This sounds a lot like the complaints by the Portland Police Association (PPA), but it raises a question: if our society continues to keep people locked in jails, is it making matters worse for the prisoners if there are not enough people to staff those jails? The deputies claim the incarcerated people are unable to be let out to walk, watch TV or even take showers.